---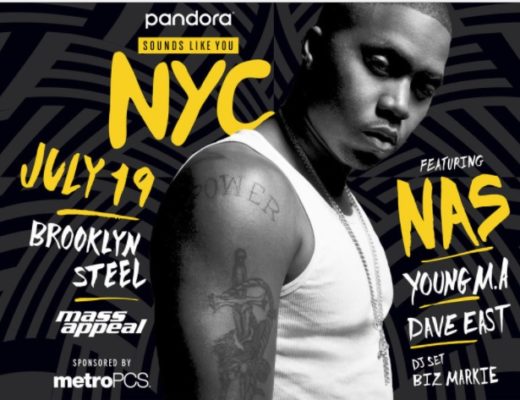 On July 19, 2017, just as New York City's summer hits its stride, Pandora will celebrate the sounds of New York City with Pandor'a Sounds Like You: NYC. New York's own NAS, Young M.A, Dave East, and the legendary Biz Markie will perform for fans at this free event which takes place at Brooklyn Steel.
Beginning July 12, 2017, listeners can tune into the Pandora Sounds Like You: NYC mixtape exclusively curated by Mass Appeal – featuring a selection of hip-hop's greatest hits and anthems made famous in NYC over the past three decades. Following the event, the Pandora Sounds Like You: NYC station will also feature audio from the live performances.
"This event is a natural extension of the Sounds Like You campaign which was created to highlight the personal music experience on Pandora. And on July 19, Pandora will sound like New York City, its artists and fans," said Jeff Zuchowski, vice president of artist marketing at Pandora. "We are honored to work with Nas, an iconic New York City voice with over a billion spins on Pandora. We're also excited to welcome Young M.A who drew great crowds at Pandora's SXSW activation, Dave East, whose weekly station adds are largely from fans in New York City, and New York's own legendary Biz Markie. The popularity of these artists and their music on Pandora is a true testament to the power of hip-hop."
Pandora Sounds Like You: NYC attendees will be treated to custom activations from sponsors including: Cantu Beauty ®, Lincoln Tech, MetroPCS.
Fans can RSVP here today: HERE
#SOUNDSLIKENYC
For more information go to www.pandora.com
Related Articles
---