---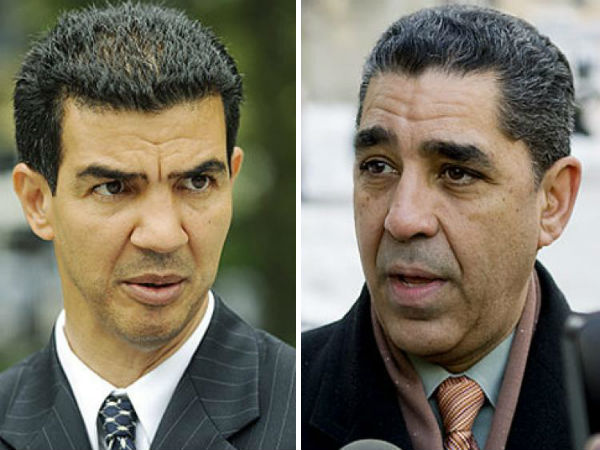 Just as
Harlem World Magazine
posts their
Harlem's 25 Worst Landlords: The Full 2016 List
, a Landlord at 78 Thayer Avenue has driven his rent regulated tenants out of the buildings to the point where over 30 apartments are now vacant, while the uptown community languishes in an affordable housing crisis.
Today, Council Member Ydanis Rodriguez (pictured on left side) was joined by Senator Adriano Espaillat (pictured) and the Democratic Nominee for NYS Assembly Carmen De La Rosa, as well as community organizations like Picture the Homeless and residents at 78 Thayer, to condemn the harassment tactics all too familiar to uptown residents.
Residents in the building discussed how living in the same building as the many vacant units has left them plagued by rats. Others addressed high jumps in rent, with no capital improvements to the building. They spoke about how these tactics have left them with few options other than to move like their erstwhile neighbors before them, too fatigued to fight in court.
Officials called for several actions against the Landlord, Joseph Noormand of 78-86 Thayer Street, to ensure 78 Thayer continues to serve the community:
Council Member Rodriguez announced that HPD is planning a top to bottom inspection in the coming days to detail suspected violations.
As the landlord is currently over $500,000 in debt according to HPD and any additional violations found could increase this number, the elected officials called for Mr. Noormand to immediately enter a regulatory agreement with HPD to keep all apartments in the building affordable for the local median income of Washington Heights and Inwood: $37,000/year.
A vacant building is worth more than one filled with rent stabilized tenants. This is why uptown has seen similar tactics employed by many landlords with regularity. Landlords systematically push tenants out, through letting the building fall into disrepair; unsubstantiated increases in rents; frequent buyout offers; or even more despicable moves like gluing locks shut on doors, as occurred just down the street from 78 Thayer.
The leaders pointed to legislation currently in the City Council as a step in the right direction for addressing issues of vacant buildings and land. The package of bills is known as the Housing, "Not Warehousing Act," sponsored by Council Member Rodriguez, Public Advocate Letitia James and Council Member Jumaane Williams. It would require:
The city to do an annual count of all vacant land and property in the city;
owners to register property kept vacant and face fines for failure to do so; and
The City to keep track of all publicly owned land as prospective land for affordable housing development.
"Landlords in our city have a responsibility to their tenants: timely repairs, a safe place to live, free from harassment," said Council Member Ydanis Rodriguez. "Unfortunately, landlords like Joseph Noormand, and so many others uptown, put profits over people. They use dirty tricks to make our residents uncomfortable in their homes, often times pushing them to leave so they can flip the property at a higher price or wait for new, richer tenants to move in. When buildings are purposely left vacant, our community's stock of available affordable housing takes a hit and we all suffer from higher demand and prices. That is why I've co-sponsored the Housing, Not Warehousing Act, to keep track of those who sit on their properties as our city faces displacement, homelessness through the affordable housing crisis. We owe it to our hard-working New Yorkers, many desperately in need of an affordable place to live."
"No tenant should live in fear of being driven from their apartment by an unscrupulous landlord motivated by nothing more than their bottom line," said NYC Public Advocate Letitia James. Our City is facing an affordability crisis not seen in decades, and landlords who are holding vacant units and lots hostage are worsening the situation. We must not only ensure that tenants are safe in their homes from harassment, but we must pass the Housing Not Warehousing Act so that landlords no longer have financial motivation to sit on empty lots that could be used for affordable housing."
"We are committed to fighting tenant harassment wherever it rears its ugly head. Tenants deserve to live their day to day lives without contending with rats and leaks. Landlords who attempt harass tenants out of their homes to drive up profits will be met by a community and their representatives who will use every resource at their disposal to protect tenants," said State Senator Adriano Espaillat (D-Manhattan/Bronx).
"These despicable acts of injustice committed by harassing landlords must end," said Democratic Nominee for NYS Senate Marisol Alcantara. "The tenants occupying units in buildings such as 78 Thayer moved to the neighborhoods like Washington Heights when no one else wanted to live there; they created vibrant neighborhoods full of commerce and life. It is simply unconscionable that today we have landlords using deplorable tactics to move out those that once kept their buildings and neighborhood alive in an effort to attract richer tenants. And whether this is a battle between working class and rich tenants, the fundamental truth remains that every person deserves the right to a safe place to live free of harassment and intentional disrepair."
"Housing is the top issue facing the uptown community, with many residents facing displacement caused by the despicable tactics we're calling out today," said Democratic Nominee for NYS Assembly Carmen De La Rosa. "Solving this crisis means allowing people in need to move into buildings and land left vacant. It also means holding landlords accountable for their deplorable actions that perpetuate homelessness and gentrification. We stand by our residents uptown and will not tolerate deplorable living conditions aimed at pushing tenants out."
Following the press conference, the group moved from 78 Thayer to 4849 Broadway, where the owner has left the land entirely vacant for nearly 30 years. This is a site that could supremely benefit a city in an affordable housing crisis and is why a city registry is so necessary. It is important to know where exactly this land is so that the city can ultimately take action, either through incentivizing affordable housing development or encouraging owners to take action with the land.
"This is what warehousing looks like," said Charmel Lucas, Picture the Homeless Housing Campaign Leader. We have thousands of New Yorkers being shoveled around in the shelter system while we have vacant property around the City that can house people. This is a prime example of landlords not being held accountable, and this is why we need to pass the Housing Not Warehousing Act. In the midst of the housing crisis, we need accountability and transparency, and the Housing Not Warehousing Act will do just that." 
Related Articles
---