---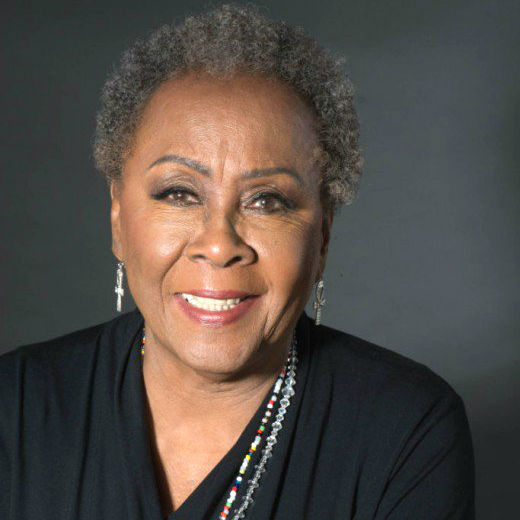 By Robert Walker
The tag line for Nana Camille Yarbrough's upcoming presentation at the world-famous Schomburg Center on February 14th, 2019 in New York reads, "Celebrating Nana Camille's Journey as an Artist and Cultural Custodian". 
An appropriate phrase describing a lady who is the quintessential Artisan.
Nana Camille Yarbrough has done it all in the arts as a performer, singer/musician, actress on the stage, television, and film. She is an acclaimed author and poet, and as a dancer who trained under the legendary Katherine Dunham. You would be hardpressed to find a medium in the arts that Nana Camille Yarbrough has not contributed to in very fervent ways.
Ms. Yarbrough is a living legend whose works have seeped into the fabric of American pop culture, as evidenced in a recent national TV commercial featuring her iconic song Take Yo' Praise released in 1975.
She is a shepherd who preserves African American culture through her artistic endeavors, telling of the struggles and celebrations about the profoundness of a people whose very journey to this country was different from any other culture of people who came here looking for a promise.
When she published her book in 1979, Cornrows, it was one of the very first books to celebrate the artistic patterns of hair braiding while revealing Africa's rich traditions passed on to young girls who would one day become the caretakers of these stories to pass down.
Every design has a name and means something in the powerful past and present richness of the Black tradition. Mama's and Great-Grammaw's gentle fingers weave the design, and their lulling voices weave the tale, as they braid their children's hair into the striking cornrow patterns of Africa. – Google Books
Cornrows would inspire a whole generation to write books about the traditions of natural hair, and any author who has written such a book will tell you that their inspiration came from Nana Camille Yarbrough's book.
Nana has written songs for the incomparable Nina Simone, many of which were performed live by Nina in concert over many years. A recent broadcast on the BBC called, Nina Simone and Me with Laura Mvula, was broadcast on UK television recently on BBC4, citing the wonderful relationship and collaboration of Nana Camille with Nina Simone.
Nana's iconic song, 'Take Yo' Praise' has been sampled multiple times, and a music reviewer describes her LP, "The Iron Pot Cooker," the precursor to Lauryn Hill's best-seller "The Mis-Education of Lauryn Hill."
I had the opportunity to interview Ms. Yarbrough before her upcoming performance at the Schomburg Center in Harlem, New York as she is the subject of a new documentary to chronicle her life and times (click here to see information regarding the event).
A Q&A with Nana Camile Yarbrough:
Robert Walker: I want to take this time to say that I am honored that you have allowed me to do this article on you, Ms. Yarbrough. I know that our readers are going to be blessed by reading about your life, career, and your impact on the Arts and Artists, and Human-kind. You are a musician, actress, poet, activist, television producer, and author. Tell us which of these passions came first for you, and when did you discover you had that gift?
Nana Camile Yarbrough: My first impulse was to tell the human story. But, Dance was my gateway, the path I took to the stage.
RW: You are from Chicago, IL. What was your early life like as a child coming up? Were you an only child, or do have a large family with brothers and sisters?
NCY: I am one of eight children born to a loving mother and father on the South Side of Chicago.
RW: Who was the person who had an early influence on you, and then who would you say really influenced you going into the Arts?
NCY: The Regal Theater was the place where our great artists performed in Chicago. I watched all of them carefully but, It was Josephine Baker, her excellence and commitment to Justice that gave me the courage to train, study and step on the stage as a performer representing the People of African ancestry.
RW: If I were to ask you to give me just one name of an artist from each professional genre you are known for, who would you say, and why? So, Who do you admire the most musically? Who in acting? What the poet impacted you the most? Which Author?
NCY: Bill Withers, Earth Wind, and Fire, Stevie Wonder, Aretha, Whitney, Alicia Keys, Ethel Waters, so many. In Dance: Katherine Dunham, Dyane Harvey, The Nicholas Brothers. The poetry of the Negro Spirituals, Langston Hughes, Walt Whitman, Zora Neal, Alice Childress.
RW: While reading about you to do this feature article, I read that you are best known for your song, "Take Yo' Praise" which was sampled on Fatboy Slim's track, "Praise You" in 1998. I understand that this was also a feature in your one-woman stage tour? What is the show's name and why do you feel this particular song has resonated so with people?
NCY: The name of my one-woman show was Tales And Tunes Of An African American Griot. It was received very well and when Fat Boy Slim put rhythm to it It became an international hit. but the important last verse was left out.
RW: Your 1979 book, "Cornrows" has been called "ground-breaking" and an "instant classic". Was this your first book, and share a little about the story?
NCY: CORNROWS was my first book for children. It was groundbreaking. But, more importantly, it shared the African tradition of attaching adornment to value systems by naming the braided hair for loved ones, respected ones, and important events.
RW: There are many untold stories in this country about African Americans who were pioneers in various walks of life, and so I am delighted to hear that while you have touched many lives over the years through your works, that so many more will now come to know you from a new documentary being done. Can you share a little about how the documentary came about and when we can expect to see it?
NCY: I write mostly about others but, I have been asked to tell more about myself. The documentary does that.
RW: We are going into our second-year post the Obama administration and 8 years with our first African American president have presided over this country's affairs very successfully considering what he had inherited when he became president. First, how did Barack Obama's election into office effect you personally? Did you ever think that this could have been possible in your our lifetime? And then, what do you make of the election of our current president who seems to have a very transparent agenda of turning the clock backward in time with his "I'm going to make America great again" rhetoric?
NCY: I always believed we would have a Black president. He did not disappoint me. Barack Obama was outstanding. But, what we have in the White House now is a danger to us and to the world.
RW: Do you think we will see another African American president sooner than later; and what of a woman president? Seems like, by popular vote, Hilary Clinton won that battle.
NCY: I believe we will have another African American president and a female president. Why not???
RW: If you were giving the commencement speech to the graduating class of 2019 at any university or college in America, what would your message be to those young people?
NCY: Your power, your strong foundation is in your ancestry. It is lit. Your genes are womb woke. Respect and use them. You have it all.
RW: Thank you. This is only the top. You honor me.
Thank you again, Ms. Yarbrough, for this interview. I know the readers of this article will be sure to catch the documentary about your life and career, and we will be sure to let our readers know how they can follow you on social media.
Read more Robert's World here.
---