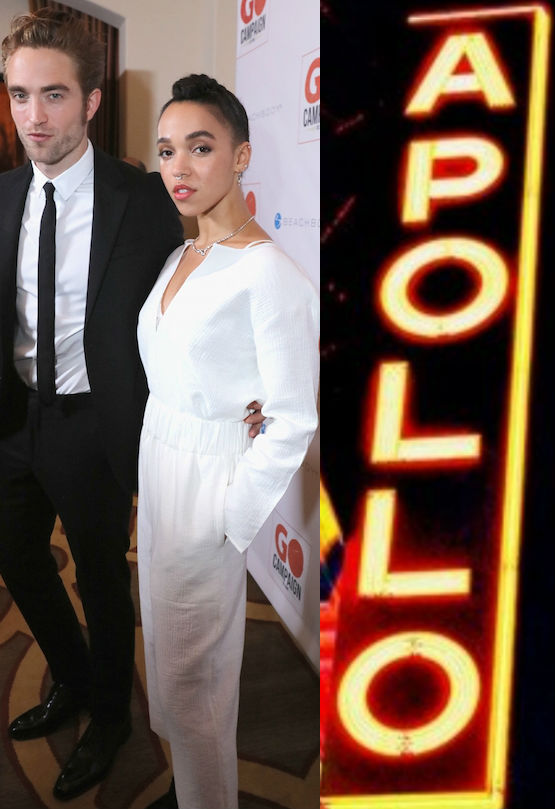 Robert Pattinson spent Saturday night at Harlem's Apollo Theater, where he watched singer Blood Orange perform.Pattinson, who is engaged to musician FKA Twigs, was "wearing a knit cap and hoodie, laughing with a group of male friends as showgoers filed out of the venue just before 11 p.m.," according to Page Six.
It's unclear if Twigs also attended. The 27-year-old "Figure 8" singer recently opened up about her musical "appeal," telling Paper Mag that people like her "honesty."
"I'm honest, and that comes out," she said. "Honest people come in lots of different types and they relate to things that aren't straightforward. I'm happy that people can roll with me, give me a chance, and let me explain my songs through my visuals. But I don't even like calling fans 'fans.' It's like, [pulls face ] Ugh, fans. [laughs] It's just people that like your music."
"I throb," Twigs added. "Do you know what I mean? I have that throbbing energy, and I accept it, and I harness it when I need to. It's not even a conscious thing."
Twigs and Pattinson's wedding has apparently been put on hold. According to a Hollywood Life source, Pattinson's "indecision over the situation has caused a delay."
Pattinson's family "has planted a seed in his head, questioning whether Twigs is the right person he should be settling down with," said the insider. "He just wants to make sure everyone in his family is on the same page. It's like, even after all this time, he still has to convince them that Twigs is the right girl for him."
"Friends that know the pair, and how much Rob and Twigs care about each other, believe they will eventually walk down the aisle," added the source. "They can't put a timescale on it, because Rob is just so flaky about that. It'll happen when it happens."
No related posts found...
---