---
Old photographs hold priceless memories, capturing moments from the past that are dear to our hearts.
However, the ravages of time can take a toll on these precious images, leaving them faded, scratched, and damaged. Luckily, with cutting-edge AI-powered technology, VanceAI has come to the rescue. Meet VanceAI Photo Restorer and VanceAI Photo Colorizer, two powerful tools that can breathe new life into your old photos. In this article, we will explore how these tools work wonders in restoring and colorizing old photographs, preserving memories for generations to come.
How to Colorize an Old Photo with VanceAI Photo Colorizer?
Step 1: Select the Perfect Photo: Begin by choosing the black and white photo you wish to colorize. It could be a snapshot of your ancestors, a nostalgic moment, or a historic figure.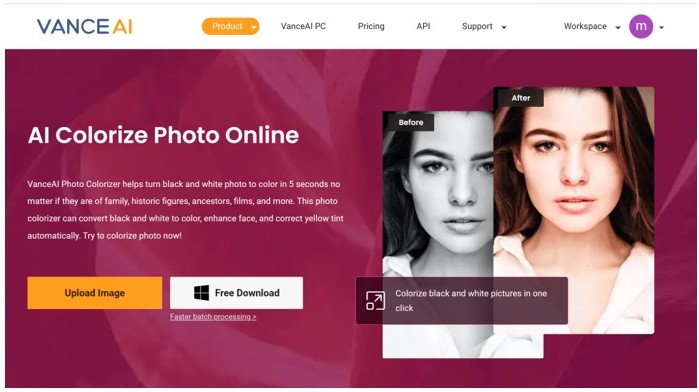 Sep 2: Upload to VanceAI Photo Colorizer: Once you have your photo, upload it to VanceAI Photo Colorizer. The AI technology will swiftly analyze the image and apply realistic colors based on extensive references.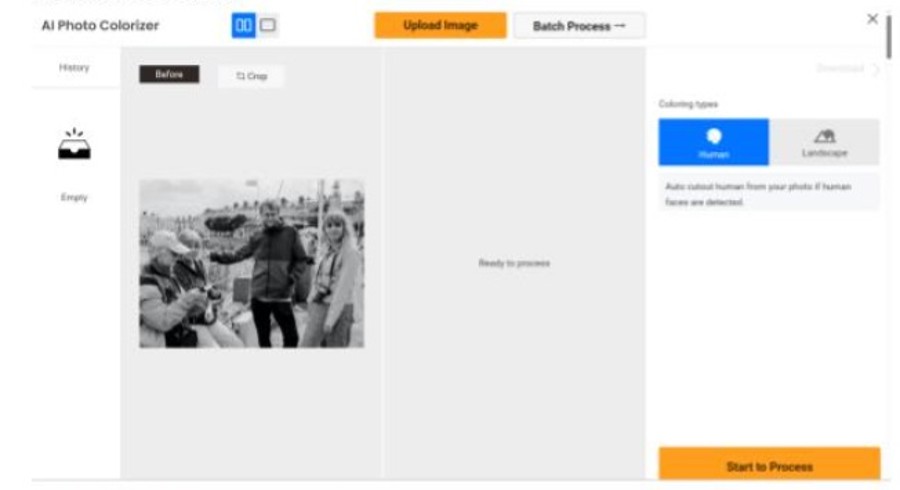 Step 3: Fine-Tune to Perfection: If you desire a more personalized touch, VanceAI Photo Colorizer provides you with the option to fine-tune the colorized image. Adjust colors, contrast, and saturation to achieve the desired effect.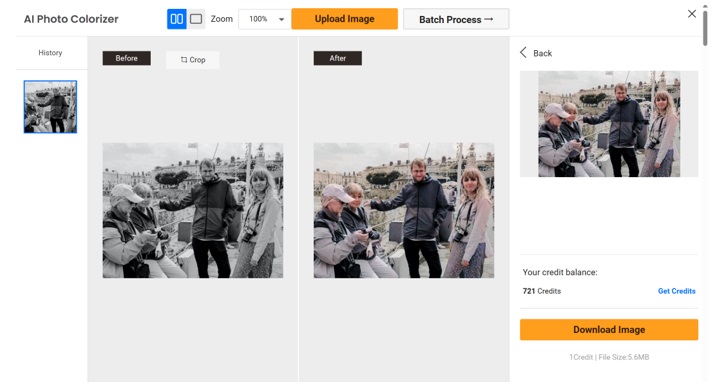 Do Some Restore Work Before Colorizing with the Help of VanceAI Photo Restorer
Step 1: Repair Damage: Before colorizing, ensure your old photo is in its best condition. Use VanceAI Photo Restorer to eliminate scratches, dust, and imperfections. The AI restoration will enhance clarity and detail.
Step 2: Restore Tears: If your photo has tears or missing portions, let VanceAI Photo Restorer work its magic in reconstructing and repairing the damaged areas.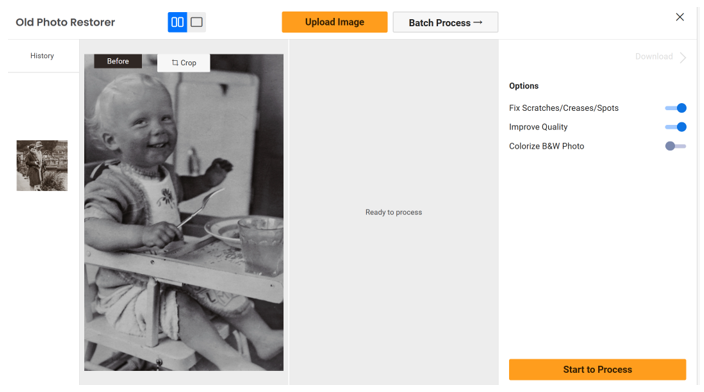 Step 3: Enhance Quality: Improve the overall quality of the image using VanceAI Photo Restorer's intelligent algorithms, which smooth out imperfections and enhance details.
Key Features of VanceAI Photo Restorer and VanceAI Photo Colorizer
Preserving old photographs is like holding onto cherished memories frozen in time. However, the ravages of time can cause these precious snapshots to fade, become scratched, or lose their luster. VanceAI comes to the rescue with two powerful tools: VanceAI Photo Restorer and VanceAI Photo Colorizer. Let's delve into the key features of these AI-driven wonders that can rejuvenate and colorize your vintage photos.
VanceAI Photo Restorer: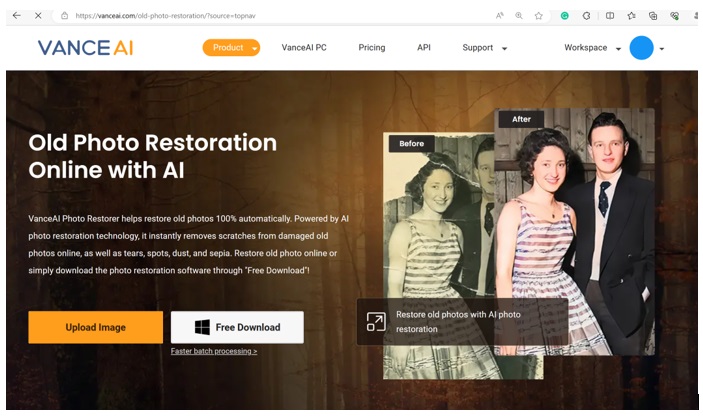 Automatic Restoration: VanceAI Photo Restorer is designed to effortlessly restore old photos 100% automatically. With advanced AI-driven algorithms, it can identify and repair various imperfections, such as scratches, tears, spots, dust, and sepia tones, without any manual intervention. The restoration process is seamless, ensuring that your treasured memories are brought back to life with the utmost precision.
Versatile Image Enhancement: Beyond mere restoration, this tool offers versatile image enhancement options. It can intelligently sharpen images and enhance overall image quality, making them clearer and more vibrant. Whether you have damaged ancestral portraits or vintage family photos, VanceAI Photo Restorer will revitalize them, allowing you to rediscover the past in all its glory.
User-Friendly Interface: The user-friendly interface of VanceAI Photo Restorer makes it accessible to users of all skill levels. With just a few clicks, you can witness the magic of AI as your old photos undergo a transformation.
Online and Offline Access: VanceAI Photo Restorer provides the convenience of both online and offline access. You can choose to restore your photos online or download the software for Windows or Mac through "Free Download." The offline version grants you the freedom to restore your pictures without relying on an internet connection.
Time-Saving Solution: Restoring old photos manually can be an arduous and time-consuming process. VanceAI Photo Restorer eliminates this hassle by automating the restoration process, allowing you to revive multiple images in a fraction of the time.
VanceAI Photo Colorizer: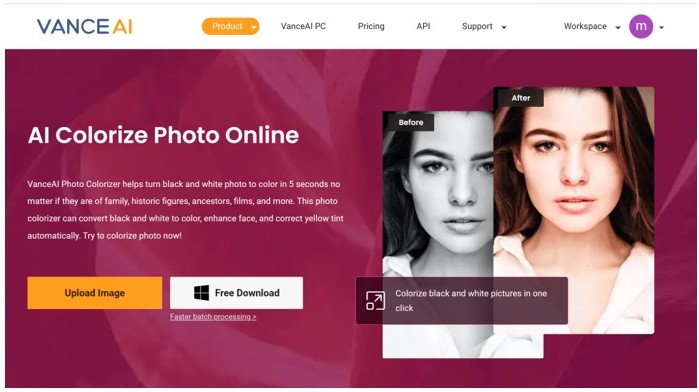 Effortless Colorization: VanceAI Photo Colorizer is an innovative tool that can add vibrant colors to black and white photos in just 5 seconds. With AI-driven colorization, it can accurately identify and apply lifelike colors to monochrome images, breathing new life into them. Whether it's historic figures, family gatherings, or nostalgic moments, this colorizer can create stunningly realistic color versions.
Automatic Face Enhancement: The Photo Colorizer's advanced algorithms extend beyond colorization. It can enhance facial features in the images, ensuring that the faces of your loved ones are brought to life with natural colors and details.
Wide Range of Applications: The versatility of VanceAI Photo Colorizer allows it to colorize various types of black and white photos, including those of family, ancestors, historical events, films, and more. It opens up a world of possibilities to explore the past and present it in a fresh and captivating manner.
Customization Options: While the AI-driven colorization is remarkably accurate, VanceAI Photo Colorizer offers users the flexibility to fine-tune the colorized images. You can adjust colors, contrast, and saturation to achieve the desired effect, ensuring that the final output aligns with your artistic vision. Apart from that, there comes some fancy AI Portrait Generator, making fancy selfies at a fast speed. Get to know more about it.
Instant Results: Gone are the days of manually coloring black-and-white photos by hand. With VanceAI Photo Colorizer, you can witness instant results and save valuable time while preserving the integrity of the original image.
In conclusion, VanceAI Photo Restorer and VanceAI Photo Colorizer are groundbreaking tools that harness the power of AI to restore and colorize old photos with unprecedented ease and accuracy. Whether you want to revive cherished memories of the past or reimagine historical events in vibrant colors, these tools offer the perfect solutions. Embrace the magic of AI technology and embark on a journey to relive the past in all its splendor, one restored and colorized photograph at a time.
About VanceAI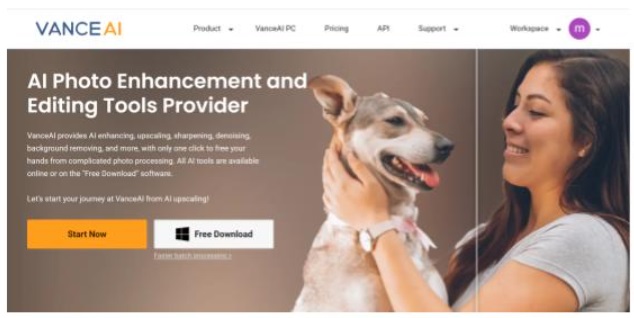 VanceAI is a leading AI-powered platform that offers a range of innovative solutions for image processing and enhancement. With cutting-edge technology, VanceAI aims to simplify the way users handle their images, making editing tasks more accessible and efficient. VanceAI recently launched a guide about AI Face Generator, you can read to know more about how to use AI Art Generator.
One of the standout features of VanceAI is its powerful BGremover. This intelligent tool utilizes advanced AI algorithms to automatically detect and remove backgrounds from images, leaving the subject isolated and ready for further use. Whether you're an e-commerce entrepreneur, a graphic designer, or a social media enthusiast, the BG Remover can save you valuable time and effort by swiftly eliminating the need for manual background removal.
Additionally, VanceAI Image Enhancer is another star in the platform's arsenal. This feature-rich tool allows users to enhance the quality of their images with just a single click. The AI-powered enhancement algorithms work wonders in refining details, correcting lighting, and sharpening images, resulting in stunningly clear and vibrant visuals.
Together, the BG Remover and empower users to elevate their images and achieve professional-level results effortlessly. With VanceAI's commitment to excellence and continuous technological advancements, it's no wonder that photographers, designers, and content creators worldwide trust this platform for all their image processing needs. Whether it's removing backgrounds or enhancing image quality, VanceAI is the go-to solution for superior and time-efficient image editing. Also, if you ever dreamed to become a Vtuber, you can try some AI Vtuber Generator to start this trial with the guide in VanceAI.
Conclusion
VanceAI Photo Restorer and VanceAI Photo Colorizer are revolutionary tools that unlock the magic hidden within your old photos. Colorizing black and white images adds a new dimension to your memories, enabling you to connect with the past in a profound way. Additionally, the photo restoration capabilities of VanceAI Photo Restorer rescue damaged photos from the ravages of time, allowing you to cherish these memories for years to come. Don't let your precious moments fade away—bring them back to life with VanceAI's cutting-edge technology.
---