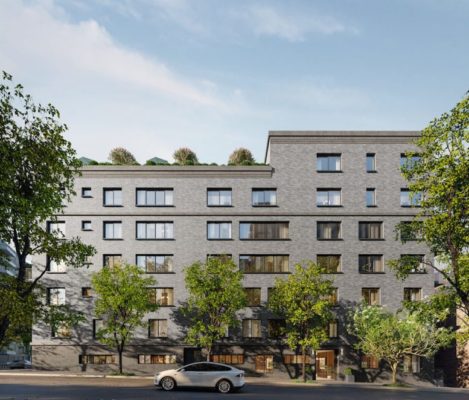 Yesterday, YIMBY revealed a new condominium project coming to 17 Convent Avenue, on the corner of West 128th Street. Today, we have the first renderings for another condo building by the same developer just two blocks up, at 52 Convent Avenue, on the southwest corner of West 130th Street.
The site's address as listed with the Department of Buildings is 464 West 130th Street, and YIMBY last reported on the project back in January, when the structure had risen three floors. It will stand six floors to its rooftop, comprising 24,955 square feet of residential space.
While the permits list 30 units, the building will actually only have 17 residences, with an average size of almost 1,500 square feet apiece. With two major vacant lots on Convent disappearing at the same time, the developer will certainly have some momentum along this stretch of real estate, which is imminently going to be almost completely built-out.
As for the building's appearance, it will use the same attractive grey brick facing 17 Convent Avenue, though the similarities end there. Differences in the two lots result in a substantially more varied appearance to the exterior of 52 Convent Avenue, with windows of several different shapes and sizes characterizing the 130th Street-side facade. Most importantly, the envelope will be flush with the streetscape, enhancing the area's sense of urbanity, which is now returning in full force.
Kane Ventures is developing, while Bricolage Designs is the architect. Completion is expected within the next year.
Related Articles