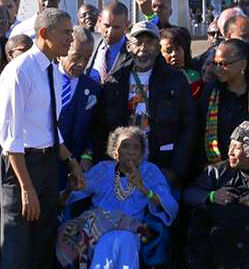 President and founder of Harlem-based National Action Network, Reverend Al Sharpton released the following statement on civil rights activist Amelia Boynton Robinson.
"I am saddened by the passing of Amelia Boynton Robinson, a heroic symbol of sustained agitation and commitment around voting rights and civil rights in this country. Had it not been for her sacrifice–being brutally beaten on the Edmund Pettus Bridge in Selma and her continued fighting to maintain the Voting Rights Act–we would not be where we are today.

One of my greatest moments of pride was walking behind her wheelchair on the bridge in March next to President Barack Obama on the 50th Anniversary of the day that she and Congressman John Lewis were beaten. I am glad she lived to see a Black President but we must make sure we maintain the Voting Rights Act and voter protection for all Americans in her memory."
Left to right, President Barack Obama, Reverend Al Sharpton and Amelia Boynton Robinson leading the walk across the Edmund Pettus Bridge in remembrance of the 50th Anniversary of the march from Selma to Montgomery, on March 7, 2015.
Related Articles
---
VIDEO
---
"We re-imagine, recreate, and redeem cultural omissions and misrepresentations of Blackness, for the culture. ...." This post is made in partnership with British Pathé.