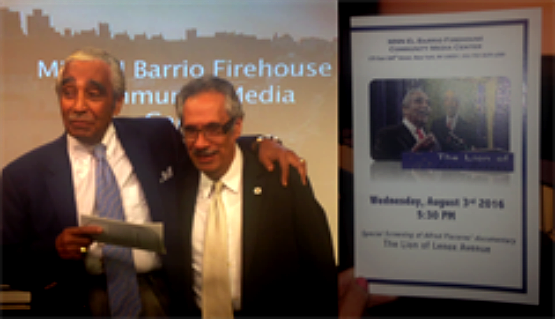 Rep. Charles Rangel and his wife Alma, and community leaders were at the historic El Barrio Firehouse Community Center on Wednesday, August 3rd, 2016, for a screening of The Lion of Lenox Avenue, a documentary about the life of public service of Rep. Charles Rangel.The local producer and director Alfred Placeres gave the Rep. Rangel for giving him the opportunity to share his story regarding the greatest community in the Harlem.
The film was screened at the state-of-the-art El Barrio Firehouse media center, opened by the Manhattan Neighborhood Network (MNN) in 2012. For almost 25 years, the MNN has empowered local filmmakers, writers, poets, and social justice activists to share diverse stories that shed a light on our neighborhoods and inspire social change.
Related Articles
---
VIDEO
---
"Dr. Harry Delany is a renowned Harlem born and raised surgeon, the son of the great jurist and civil rights leader, Hubert Delany...." This monthly post is made in partnership with Harlem Cultural Archives.