---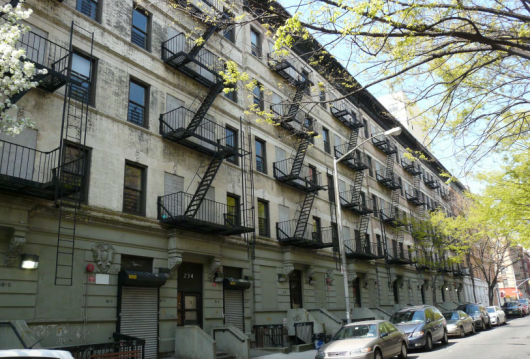 Brick Underground reports that applications opened today for affordable rentals in Harlem's historic—and newly refurbished—Randolph Houses at 114th Street, all of them asking less than $850 a month.
The Randolph Houses, built in 1890, take up most of the block on 114th Street between Adam Clayton Powell and Frederick Douglass Boulevard, and, as the New York Times reported last March, have been undergoing renovations after years in limbo (and disrepair). Some details from the developer's website:
"The newly reconfigured units will be a mix of studio, 1, 2, 3 and 4 bedroom apartments designed to accommodate family living. The rehabilitated buildings will contain community space, computer lab, fitness room and storage for residents. There will also be site improvements which include two children's play areas for different age groups and active and passive outdoor spaces for residents to enjoy."
Currently, NYC Housing Connect has a lottery for 20 apartments in the Randolph Houses: 12 $788/month studios for single renters with annual incomes between $28,389 and $36,300; and eight $847/month one-bedrooms for single renters with an annual income between $30,446 and $36,300 or two people with a household income between $30,446 and $41,460.
Preference for half of the apartments will be given to current members of Harlem's Community Board 10, and preference for 20 percent will be given to "NYCHA-affiliated applicants" (you can find full requirements and details on the listing here).
If you think you qualify and are interested in applying, create a profile andsubmit an application via NYC Housing Connect, or request a paper application by sending a self-addressed envelope to:
Wavecrest Management Team, LTD., c/o Randolph Houses, 87-14 116th Street, Richmond Hill, New York 11418.
Note: don't send in more than one application, or you'll run the risk of being disqualified from the running.
Applications are due by December 11th, 2015.
Note: BrickUnderground is not affiliated with New York City public housing. If you are interested in applying to this or other affordable housing developments, please go to the NYC Housing Connect website for information and instructions.
---