---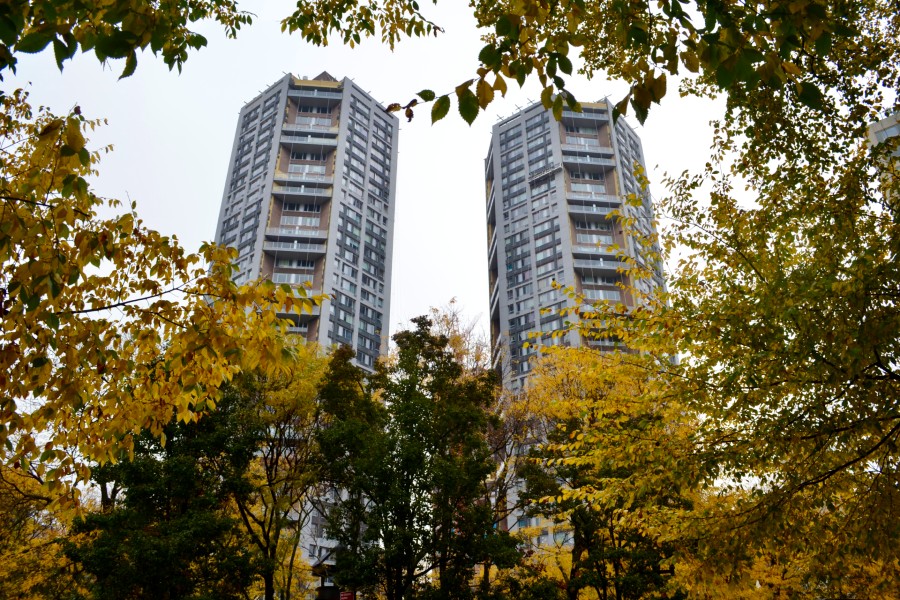 By Thomas Copeland
At the northeastern corner of Central Park sits Schomburg Plaza, its twin octagonal towers overlooking Harlem Meer, with views down 5th Avenue to the south and across 110th Street to the west.
Named after Arturo Alfonso Schomburg, a famed 'Father of Black History', Schomburg's towers opened in 1974 as 'the symbolic pillars of the gateway to Harlem'. At its feet lies Duke Ellington Circle, New York's first public monument to an African American, commemorating the jazz icon who shot to fame at Harlem's Cotton Club. Across the road, the gate to the park is set to be named after the Central Park Five, three of whom lived in Schomburg Plaza. "It's a part of history, right?" said Faheem Abdur-Razzaaq, who is now president of the buildings' tenants' association. "This is the story of Harlem."
This week, the historic Schomburg Plaza is at the center of a battle over Harlem's future. Will it be excised from the iconic neighborhood for whom it was built, or will it remain within the Harlem community at the expensive of the area's Black political power? Hidden under an arcane process of redrawing the City Council's district boundaries lies this story of displacement, disenfranchisement, politics and power.
Once every decade, New York's 51 council districts are tweaked in response to US census findings. Since 2010, the city's population has swelled to 8.8 million. Council District 9 covers Central Harlem, the heart of a community regarded as a historical, cultural and political epicenter for the nation's African American people. In the last ten years, however, more than 8,000 Black residents have left Central Harlem, while nearly 22,000 white, Asian and Latino residents have moved in .
As Manhattan's skyrocketing rents have spiraled out of reach for many New Yorkers, parts of the city once left behind are increasingly being considered as 'up-and-coming' residential opportunities — in short, gentrification.
Responding to New York's demographic shifts is an intricate puzzle for fifteen commissioners, appointed by the City's political leaders, who spend ten months trying to evenly rebalance the population without diluting the voting power of minority communities. The Districting Commission can take until December 2022 to finalize new district maps upon which the 2023 City Council elections will be fought.
On July 15th, the Commission published its preliminary maps. In Central Harlem, a small but significant change did not go unnoticed. The maps proposed reassigning nine blocks, from 106th to 115th Streets between Madison and 5th Avenues, into neighboring District 8, which spans Latino-dominated East Harlem and swathes of the Bronx.
The same day, the Commission received a letter of objection. "We are now faced with deep concern for the southern tip of Harlem", explained the letter, because the landmarks within these nine blocks "are all a part and unique to historic Harlem". Within these nine blocks, housing more than 7,000 people, is Schomburg Plaza. The letter was signed by fifteen of Harlem's political heavyweights, including State Senator Cordell Cleare, Assemblymember Inez Dickens, and Congressman Charles B. Rangel.
"Those neighborhoods belong to Harlem, as it has been a traditionally, historically Black community," explained State Senator Cordell Cleare. "If we keep picking at it piece by piece, there will be no Black community, there will be no Harlem, we might as well be in a museum." Rather than the redistricting process responding to gentrification, Cleare fears it will become a cause. "That's the root of the problem right now, people being gentrified out of their community," said Cleare. "I don't want these lines to help that process."
Cleare is bullish about resisting and even reversing gentrification, but she, like everyone in Harlem, has no easy solutions. Building affordable housing, however, is central to her thinking. "Harlem doesn't need one other luxury development in it," she said. "That's not what comes into my office every day." To achieve this, elected representation is critical — representation that Cleare believes is strongest when Harlem's Black community is united. "We should be representing the fact that Blacks are rapidly being pushed out of this island of Manhattan," she said.
Thirty years ago, Jo Ann Lawson did the opposite, moving in from the Bronx to Lakeview Apartments, a building opened in 1974 under the Mitchell Lama program, designed to provide housing for low-income New Yorkers. Lawson led the high-profile campaign for Lakeview to retain its Mitchell-Lama affordability in 2018. As she watches City leaders sketching new district boundaries around her home, Lawson fears that Lakeview's more than 1,000 residents will lose the representation that was instrumental to their victory.
"No one knows us in District 8. No one has gone into battle with us. It took years of us fighting to have a great working relationship with who's here now," she said. In an impenetrable redistricting process, Lawson is as confused as she is upset. "All of a sudden, it's like we're a toy," she said. "I can't even begin to let you know how frustrated my residents are. They want to know why."
But others in Harlem do know why. District 9 is represented by Kristin Richardson Jordan. The 35-year-old Councilwoman is a democratic socialist and police abolitionist who regularly clashes with Harlem's political establishment — a local manifestation of the national divisions gripping the Democratic Party. Richardson Jordan was endorsed by left-wing flagbearer Congresswoman Alexandria Ocasio-Cortez in her surprise election victory last year, beating incumbent veteran Bill Perkins and Cordell Cleare.
For Richardson Jordan, only one thing matters — maintaining Harlem's Black voting majority. The preliminary maps would hold that majority at precisely 50%. If District 9 were to remain unchanged, however, the Black voting population would stand at 49.6%. At fewer than 600 people below a majority, this margin might seem negligible, but for Richardson Jordan, it is critical. "Before you know it, we actually have a community that is not Black majority and is not protected in the same way by the Voting Rights Act," said Richardson Jordan. "It would be the beginning of the end of the Black community in Harlem."
The Voting Rights Act is designed to protect the voting power of racial and language minority communities. If the voting proportion of that minority community falls under 50%, this does not automatically remove protections for that community's voting power, but longer term, "if people don't live where they used to live, you can't draw a district out of thin air," said redistricting expert Professor Jeffrey Wice from New York Law School.
When the previous boundaries of District 9 were finalized in 2013, the Black voting majority was 61%. If the current decline persists, when Central Harlem's boundaries are reexamined in 2032, Black voters will be just one of a few of what Professor Wice calls "communities of interest". The demographic make-up of Upper Manhattan has been changing for decades, and many milestones have been passed as its Black population has steadily fallen. But if Black voters become a minority in selecting the City Council representative for Central Harlem, this would be a political blow like few others. "You're not going to be able to elect someone who is a third generation Black Harlemite and is set on preserving the legacy of longtime Harlem residents, if you have a district that is mostly made up of gentrifiers," said Richardson Jordan.
On Wednesdays, round-the-block queues for a Common Pantry food bank on 109th Street stretch past the lobby window of a luxury 5th Avenue condominium. The data shows that in the nine blocks removed from District 9 under the preliminary maps, gentrification is accelerating year on year. But for the residents of Schomburg Plaza and Lakeview Apartments who are standing in line, demographic trends won't help put food on the table. From some in Harlem, including Cleare, the message to the Commission was clear — we won't leave these parts of our community behind.
After publishing their preliminary maps, the Districting Commission received nearly 10,000 written submissions and hosted more than 35 hours of public meetings. On October 6th, two weeks after a failed first attempt, the Commission voted to send a set of revised maps to the City Council, who can approve them, through a vote or inaction, or they can vote to return them to the Commission for further public consultation. In Central Harlem, one side clearly emerged victorious. The Commission reversed most of its proposed changes, returning nearly all of the nine blocks to District 9. In return, however, Central Harlem's Black voting population has fallen just below 50%, just as Richardson Jordan had feared. "I will say right here right now," she told a public meeting in August, "I will not vote for any District 9 map that does not restore our voting rights and Black [majority]." But with the deadline for a response coming on Thursday 27th October and insiders reporting that the Council may choose to endorse the maps, Richardson Jordan may be left without an opportunity to vote against them.
"Politicians all be talking bulls**t", said Richard Archer, basking in the sunshine at Duke Ellington Circle. Having lived in Schomburg Plaza's western tower since it opened and watching the neighborhood transform around him, Archer isn't surprised that politics is lurking around every corner. But he isn't worried about redistricting or Black political power because, at 86 years old, he still has a back-up plan. "Whatever they do, I don't have to stay no more. I can move to Florida," he said.
For many in Harlem, that exit door becomes more inviting every year. Before this redistricting process concludes, hundreds more Harlemites will have left, many in search of affordable housing. No matter how District 9's boundaries are redrawn, it will grapple with this challenge – can Harlem remain a 'Black Mecca' when Black people are leaving in droves?
Schomburg Plaza lost its affordable Mitchell Lama status in 2005 after being sold to a series of private developers. It has since been rebranded as 'The Heritage', but its website bears no mention of Schomburg Plaza's history, legacy or significance. For the growing number of new residents, most of whom are white and Asian, the building's story may even feel alien. "They just don't care," said Faheem. "Do they even know it's the same place that the Central Park Five were from?" Many won't know who Arturo Alfonso Schomburg was and soon nearby street names, like Adam Clayton Powell Jr and Frederick Douglass Boulevard, will become equally unfamiliar. "As long as I'm here I'm going to talk about stuff like that", vowed Faheem, "but the groups I talk to are getting smaller and smaller."
Thomas Copeland
Thomas Copeland is a journalist from Belfast in Northern Ireland. As a student he worked in television production on BBC current affairs programming and as a freelance journalist for Sky News and BBC Radio Five Live. Now at Columbia Journalism School, Thomas is a UK Fulbright Scholar (Alistair Cooke Award in Journalism), and has also received scholarships from the George Moore Program in Ireland and from the Hugh Fulton Byas Memorial Fund.
Photo credit: By Thomas Copeland.
---