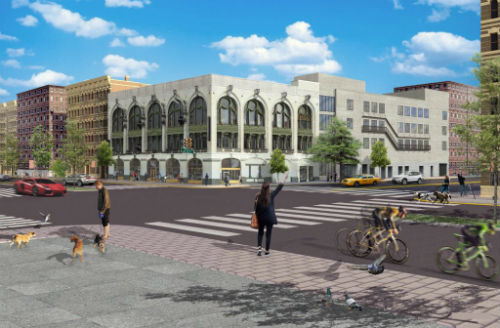 The Landmarks Preservation Commission has approved a revised design by Todd Zwigard Architects for the Hamilton Theater, at 3560 Broadway, in Harlem.Yimby first saw renderings for the project on Halloween of this year. The site will be repurposed for commercial-retail and office space within the neo-Renaissance theater, with the hope of revitalizing its prominence in the neighborhood.
There are two major changes in the new design: the bulkhead, and the windows. The bulkhead will be decreased in length, allowing for the parapet to be consistent in height along the entire façade. The more visually cohesive style will draw less attention to the distinction between the two structures.
As for the windows, their openings have been decreased in size, and have four panels, rather than two. No major changes were made to historic theater's design, only the shifting of some doors on its southern side.
Permits have not been filed yet for the project. An estimated completion date has not been announced.
Photo First proposed redesign of 3560 Broadway, rendering by Todd Zwigard Architects.
Related Articles
---