---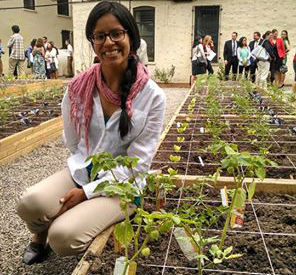 Harlem just got greener, thanks to the opening of nonprofit GrowNYC's seasonal Mt. Sinai Greenmarket, bringing more than just fresh, locally grown produce to the area.  Every week shoppers at this Wednesday farmers market can recycle clothing and other textiles, and drop off kitchen scraps to be composted locally.
Mt. Sinai Greenmarket began accepting food scraps last year, in partnership with the NYC Department of Sanitation.  Residents dropped more than 1,935 pounds of vegetable scraps, stale bread and coffee grounds, which were later transformed into compost for local farming and gardening projects.  More than 800 pounds of clothing and textiles such as clothing, shoes, bedding and towels were also collected for recycling or reuse.    GrowNYC has collected more than 2.7 million pounds of textiles and 2.85 million pounds of food scraps at dozens of Greenmarket collection sites throughout the five boroughs.  Together, food scraps and textiles comprise 23% of NYC's waste, making efforts like these critical to reducing the big apple's environmental footprint.
Mt. Sinai Greenmarket takes place Wednesdays, June 25 through November 26 on Madison Ave at 99th St.  Food scraps and textiles are collected from 8am-2pm.  For more information, visit www.grownyc.org or call 212-788-7964.
Related Articles
---