---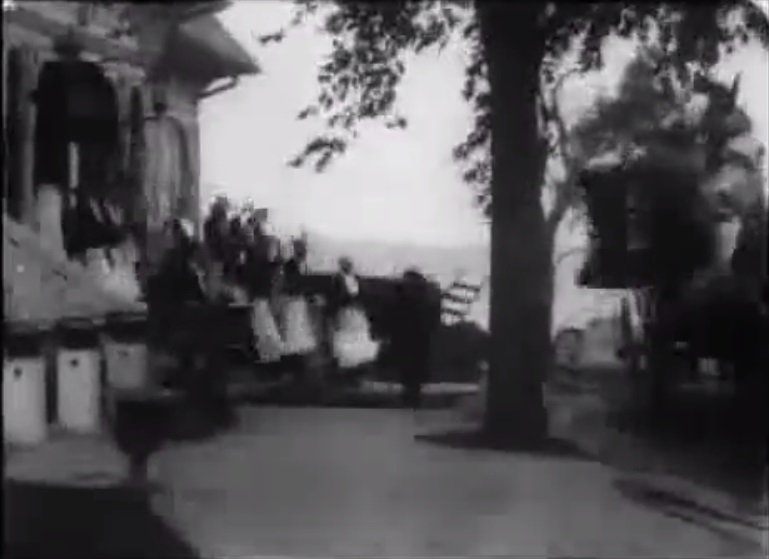 The opening was filmed in front of Rector's Lobster Palace  at Broadway between 43rd & 44th Streets.This party is on their way to the Claremont Inn on Riverside Drive, Harlem, New York in 1908.
A Manhattan 'travelogue' of sorts as we get to see the scenic majesty that is Manhattan's posh and rural West-Side along Riverside Park including Grant's Tomb at 121st Street. It's not until they arrive at their destination that the straggler finally catches up. Pretty impressive! Good thing they didn't decide on Brooklyn.
People traveling by carriage from downtown to the "country" further north would stop at the Claremont for refreshment and a panoramic view of the Hudson from the heights. According to an article in The Evening World, January 15, 1920,
"In the days when the city was young, Claremont was a rendezvous for equestrians who would pause on their morning or afternoon gallop for a 'nip from the wood'. …Statesmen in their frock coats slapped uniformed shoulders and had theirs slapped in return. Art critics admired the collection of Sadler's etchings [popular renderings of domestic scenes of old England] with which the rooms are hung, and collectors of antiques went green with envy at chinas occupying a place on high in the breakfast room."
From the New York Times archive for 1913 an article on Charles Rector's bankruptcy including a history of his business ventures in the restaurant and hotel trades from Chicago to New York that put a pinch on the venue.
Here's the video:

Related Articles
---