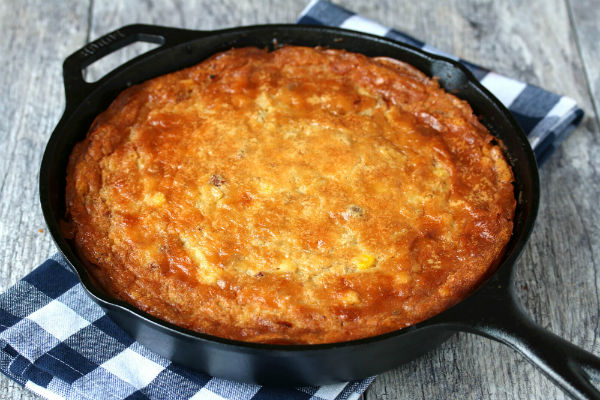 By West Harlem CSA
Similar to a soufflé, this corn pudding puffs up, then sinks a little as it cools. It makes an impressive side dish or serve the pudding as a simple main course, paired with heirloom tomatoes and crusty bread – yummy.
Pudding corn is not to be confused with hasty pudding, which is made from ground corn, rather than whole kernel.
This recipe can easily be halved; bake the pudding in a shallow 2-quart baking dish for 40 minutes.
Ingredients:
3 cups half and half (tip: use whipping or heavy cream)
4 cups corn (tip: use fresh corn)
1 tablespoon extra-virgin olive oil
1 medium sweet onion, finely chopped
4 tbsp unsalted butter
1/2 cup cornmeal
5 large eggs
3 oz. sharp cheddar cheese, shredded
2 tsp chopped fresh thyme
1 tsp salt
1/2 tsp freshly ground black pepper
(Tip: Gradually add the dry ingredients.)
Preparation:
Preheat the oven to 350.  Butter a 9×13 shallow ceramic baking dish.  In a large skillet, melt the butter.  Add the thyme and cook over moderate heat until the onion is softened, about 8 minutes.  Remove from the heat.  Add the corn and cornmeal and toss to combine.  Season with salt and pepper and let cool.
In a large bowl, whisk the eggs with the half-and-half.  In a blender or food processor, combine 1 cup of the custard with 1 cup of the corn mixture and puree until smooth.  Whisk the puree into the custard.  Then stir in the corn mixture, cheese, salt and pepper until well blended.
Spread the mixture in the prepared baking dish and bake for about 40 minutes until the pudding is slightly puffed and just starting to brown.
(Tip: Corn pudding should have a soft, soufflé-like texture, not be dry and firm like cornbread. When the pudding is done baking, it should be golden brown around the edges and slightly jiggly in the center. Test for doneness by inserting a knife into the center of the pudding—it should come out clean.)
Let stand 10 minutes before serving
---
---
Via West Harlem Community Supported Agriculture. Via photo.
Related articles
Related Articles