---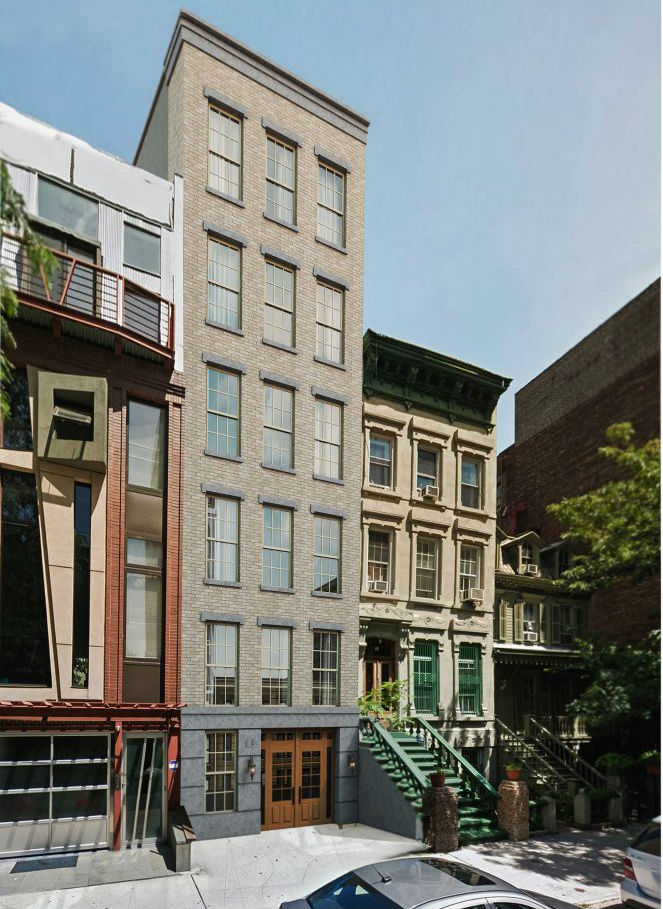 A year ago, Exclusive Homes New York filed plans for a new residential building on a skinny lot at 13 East 128th Street in Harlem. Now, YIMBY has the first look at the project, which has been designed by Issac and Stern Architects.
The 19-foot-wide building will fill the vacant lot between Fifth and Madison avenues, in a particularly transit-rich section of Harlem. The 2 and 3 trains stop five blocks southwest of the site, at 125th and Malcolm X Boulevard, and the 125th Street stops on Metro-North Railroad and the 4/5/6 are about the same distance away in the opposite direction.
The six-story development will bring six apartments to a block that's mostly well-preserved, pre-war buildings, except for a newish condo building on the corner of Fifth Avenue. If it looks like the rendering, the building will blend quite well because of its light brick and cornice. It will certainly fit in better than the strangely configured, decade-old townhouse next door, whose owner is also its architect.
Since the apartments would be spread across 6,555 square feet of residential space, the average unit would be a relatively spacious 1,093 square feet. The larger units indicate that condos are probably in the works.
Exclusive Homes picked up the property for $815,000 last year, paying $124 a square foot for their planned project.
Via source
---