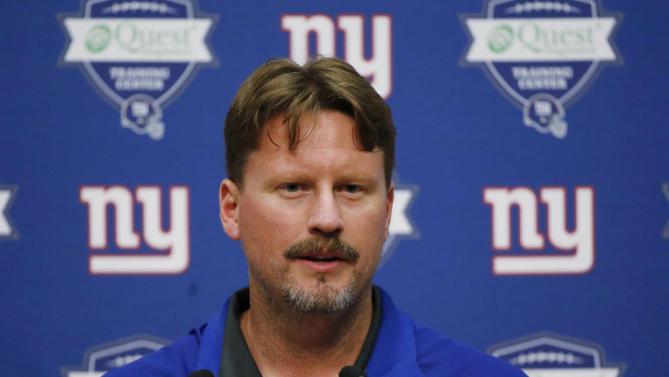 By Marc Rasbury
I wish I had a dollar for every time I heard someone call Ben McAdoo Bob since he arrived in New York. Ben is not Bob McAdoo, the original Kevin Durant, a 6'10'' baller who would drain a shot a step over the half court line. No, Ben McAdoo is now the 17th head coach of the New York Giants. He got the job based on how he worked with and improved the play of Eli Manning as offensive coordinator during his brief tenure with the organization. While arguably the four of the best QBs (Tom Brady, Cam Newton, Peyton Manning and Carson Palmer) are heading into Conference Championship Weekend, Eli will be home for the third year in a row. Hopefully, with Ben McAdoo as his new head coach, he will be part of Championship weekend next year.
Related: Check out more Harlem World Magazine articles by senior sports writer and photographer Marc Rasbury.
Most football fans in this neck of woods were looking for the Giants GM Jerry Reese to bring in a big name to replace (depending whom you talked to) the recently fired or retired Tom Coughlin. Coughlin won two Lombardi Trophies for the storied franchise but he also missed the playoffs six of the last eight seasons. So many felt it was time for a new voice at the helm of the team. But was Ben McAdoo the man? After going through a number of candidates, Ben McAdoo was selected. They were not going to lure John Gruden or Bill Cowher out of retirement or go after Mike Shannahan or one of many hot shot coordinators out there. After a brief search, Reese and the Giant hierarchy decided to snag McAdoo, who developed a nice relationship with the organization's franchise QB. Under Ben's tutelage, Eli experienced two of his best seasons of his career. Ben McAdoo's quick strike attack helped Manning elevate his completion percentage to over 60% and QB rating to at least 92.1 during that span. He also helped Eli cut down on the Achilles Heel aspect of his game, interceptions.
Team owner John Mara told reporters, "Jerry Reese and I interviewed six excellent candidates for this position. Contrary to what I've read even a few places about this being an uninspiring group, nothing could be further from the truth. We felt all six were excellent and quite frankly I could've been happy with any one. We brought Ben back in this past Wednesday and he sat with Jerry, myself, Steve and John Tisch and at the end of that session, we agreed that he is the man for the job."
Jerry Reese stated during Ben McAdoo's introductory press conference that he wanted to keep the former offensive coordinator for continuity reasons regarding his work with Eli and the offense. No one can question the success that he had with the offense. The questions that many will have regarding the new head coach is: How he is going to deal with the defense, special teams and the big in-game decisions that will be needed to be made.
"My next message is to Giants fans, Giants fans everywhere. I realize that this fan base is tough, it's passionate and deserves a winner. This is the capital of the world and this is the football capital of the world and with that comes a certain amount of pressure, a pressure that I look forward to, our staff and our players will look forward too. This job is not for the faint of heart and I'm the right man for the job. I'm hardened, battle tested and I've been groomed for this opportunity by Super Bowl winning coaches, players and organizations. We're going to assemble a staff and a locker room that the fans can rally around. We're going to set our jaw and we're going to get to work," Ben McAdoo told the media at his introductory press conference.
For true and knowable football fans, Ben McAdoo came across an individual who has a plan and appears to be ready to lead this team. Others ridiculed his appearance including his suit and his haircut as he was introduced as the new head coach. But that had nothing to with football. However, that is the petty among us. Give the guy a chance. Remember, very few knew what a young guy named Bill Parcells brought to the table some 30 years ago. How did that choice turn out?
Ben McAdoo would like to participate in the NFC Championship game next year. As for as this year is concerned, Newton and Palmer, two of this season's MVP candidates will lead their troops into battle for the right to go to the Super Bowl. It will be the first appearance in the Big Dance for the winning signal caller. In my humble opinion, I feel Cam will be leading the charge in two weeks in San Francisco.
In the AFC, Peyton Manning and Tom Brady will meet up for the umpteenth time during their storied careers. Both will be looking to enhance his respective legacy. This is perhaps Manning's last game and plenty of people hope that he goes out with a bang. Brady is looking to secure his place as the greatest QB ever and another ring will definitely help his cause. Both teams limp into this contest.  That is why I have this as a pick'em due to the injuries in both camps.
I keep on referencing the new Giants new head coach by his full name because I don't folks to keep on calling him the ex-Buffalo Braves, New York Knick and Los Angeles Laker Bob McAdoo. Hopefully, he have Eli back in the NFC Championship game in the not-so-distant future. Maybe then, he will make a name for himself.
---
Photo credit: New York Giants Ben McAdoo Photo/Julio Cortez.
No related posts found...