---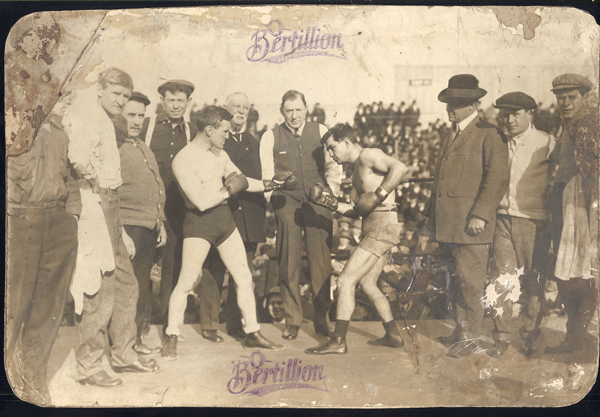 On February 22, 1913, at Coffroth's Arena in Daly City, California lightweights Harlem Tommy Murphy
and Ad Wolgast
squaring off in the featured match. Murphy was awarded the win in the 16th round when Wolgast was disqualified. Offered here is an original, first-generation photo that depicts the two squaring off as their handlers look on including left to right, is short, stocky Jim Buckley who acted as Murphy's manager when Murphy was in California.
Robert Wadsworth Edgren was a nationally syndicated American political and sports cartoonist, reporter, editor, and Olympic athlete who wrote, "Abe was a businessman." Attell allegedly tried to do some business with Harlem Tommy Murphy before their Daly City fight, floating the idea that Harlem Tommy might care to 'lay down'. Murphy and his manager firmly rebuffed the offer and Abe vehemently denied ever having made it.
Cyber Boxing Zone writes from the Mike Casey Archives… Abe's punishing duel with Harlem Tommy remains one of the bloodiest fights ever seen, waged in a stark era when lighter and far less resilient gloves quickly became slashing tools. How Attell tried. His old guile and cleverness were still very much intact, as was his ability to mix it up and take his lumps when the going got tough. But Abe, who normally read a fight so well, made a costly tactical blunder in the opening rounds when he chose to park his artful boxing at the door and trade punches with a tough cookie who relished nothing more than a good old-fashioned fight.
Harlem Tommy's aggressiveness and weight advantage soon told on Attell, who knew by the middle rounds that he would be beaten if he failed to revise his game plan. It was then that Abe the old boxing master took centre stage again, and he very nearly pulled it off. Suddenly he was flying, avoiding Murphy's big punches and slamming home a succession of lefts to the body that slowed Harlem Tommy's pace and took much of the steam from his attack.
However, there was only so much gas left in the tank for Abe, a twelve-year veteran of more than 150 fights. He had reached that time of life when an old ring mechanic has to bluff and stall and engineer a brief respite that won't be found out and punished. Harlem Tommy just kept coming on, and Attell's clever boxing was no longer sufficient to fashion a hiding place as the hazy finishing line came into sight.
Abe had to revert to fighting Murphy and hope for the best. The old champion's defiance was something to behold. As Harlem Tommy marched forward in the eighteenth round, Attell opened fire, showing tremendous bravery. His face a mask of blood, Abe's ferocious resistance stunned even his most ardent admirers. From that point, to the end of the twentieth and final round, the Little Hebrew met Harlem Tommy head on and waged war with him.
Attell's grandstand finish wasn't quite enough. The decision went to Murphy, but Abe had convinced many that he stood an excellent chance of regaining the featherweight championship from Johnny Kilbane.
Attell never got the chance. Five months later, he went back to Coffroth's Arena to fight a twenty-rounds draw with Harlem Tommy in their final meeting, but Abe's glory days were over and he could never fully muster his old magic after that.
Harlem Tommy Murphy
, born in Harlem, NY, April 13, 1885 – November 26, 1958, was an American boxer whose career lasted from 1903 to 1917. He was a contender in three different divisions; being ranked in the bantamweight, featherweight and lightweight weight classes. During his tenure as a fighter, he squared off against some of the greatest boxers of all-time, including Abe Attell, Packey McFarland
, Leach Cross, One Round Hogan, Pal Moore, Owen Moran, Ad Wolgast and Matty Baldwin.
Photo credit (l to r): #1 (no face), #2 ?, #3 is short, stocky Jim Buckley who acted as Murphy's manager when Murphy was in California, #4. A tall guy in a cap is the well-known S.F. trainer Moose Taussig, #5 is Harlem Tommy Murphy, #6 is the famous S.F. announcer Billy Jordan, #7 is referee Jim Griffin, #8 is Ad Wolgast, #9 is Tom Jones the manager of Wolgast, not sure of #10 and #11. Via source.
---