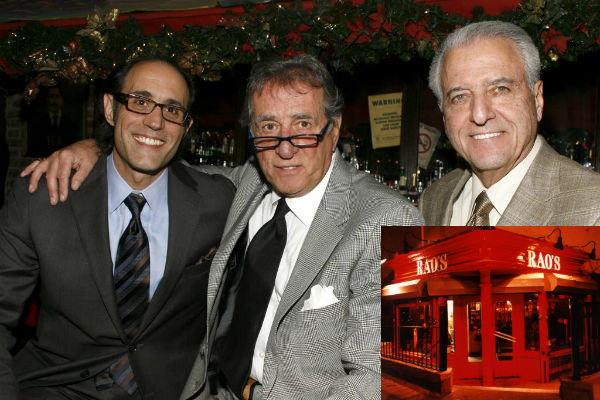 The New York Post reports that a family feud is threatening to make mincemeat out of the Rao's food empire.
A nephew of Vincent Rao, founder of the legendary Italian restaurant in Harlem and its lower Manhattan specialty-foods business, is fighting another nephew over control of the company, according to a new lawsuit filed in Manhattan Supreme Court.
Ronald Straci and his wife, Sharon, say in their suit that they helped start the offshoot business in 1991 after they were approached with the idea by Ronald's uncle and aunt, Vincent and Ann Pellegrino Rao, and cousin Frank Pellegrino Sr.
The couple and several of Ronald Straci's law partners each coughed up about $15,000 to start Rao's Specialty Foods near Battery Park, the suit says.
The group agreed that 50 percent of company shares would go to the Raos and Frank Pellegrino, while the other half would be spread out among the Stracis and the other investors, according to court papers.
Sharon Straci was appointed to run the specialty-foods business, while Ronald was named secretary, the suit says.
The Stracis say they sacrificed for the company when no one else stepped up to the plate, including taking out a $250,000 loan to pay expenses. The company saw massive growth under the Stracis' leadership, the suit claims, increasing from a $280,000-a-year venture to one that boasts "tens of millions of dollars" annually.They weren't even paid for about five years, until shareholders, including the Stracis, voted to pay themselves, according to the suit.
As a result, there has been huge interest from potential buyers in the company, but the majority shareholders have rebuffed all efforts, the documents state.
Meanwhile, the Stacis say, they are being pushed out.
The other shareholders have not met with the Stracis in 12 years, papers state.
A lawyer for Pellegrino and the other shareholders did not return a request for comment.
Editor's note: We hope the family will come to an agreement that all parties can be happy in Harlem.
---
---
Photo credit: (From left) Frank Pellegrino Jr., Frank Pellegrino Sr. and Ron Straci (Photo: Patrick McMullan.)
Related Articles
---