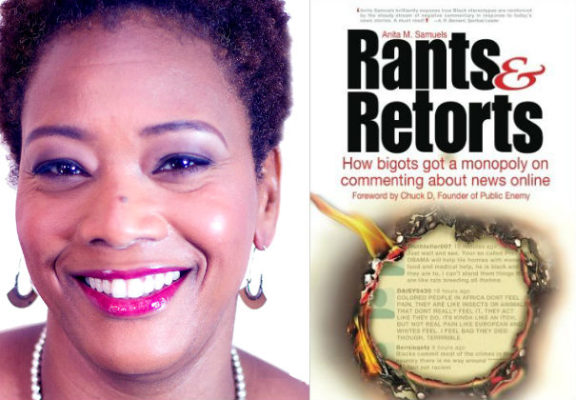 "In Conversation with Anita M. Samuels," a discussion with the nationally acclaimed journalist and critic on media, fashion, music and culture on her new book, "Rants & Retorts: How bigots got a monopoly on commenting about news online."
With a foreword by Chuck D of Public Enemy, Rants & Retorts is a provocative exploration of the way in which reader comment sections — created to foster the free flow of ideas and opinions on the news of the day — have spiraled downward into what many journalists call "cesspools" of racism and bigotry.The book features reader comments amassed over years from various news sites, as well as commentary from and analysis by experts in media, journalism, law, and contemporary culture.
Anita M. Samuels, Rants & Retorts author. Howard University digital journalism professor Ingrid Sturgis will join Samuels for the conversation.
Samuels will be signing copies of her book following the discussion.
Friday, February 24th, 2017, 7 p.m.
---
Become a Harlem insider - Sign-Up for our Newsletter!
---
MIST Harlem, 46 West 116th Street, New York, NY 10026
Related Articles
---
VIDEO
---
"Dr. Harry Delany is a renowned Harlem born and raised surgeon, the son of the great jurist and civil rights leader, Hubert Delany...." This monthly post is made in partnership with Harlem Cultural Archives.