---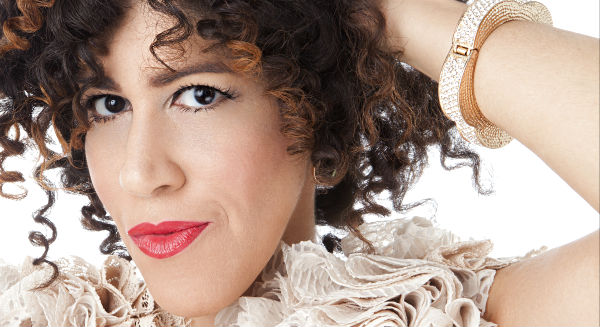 Rain Pryor's (www.rainpryor.com) one-woman autobiographical play will have its World Premiere at Dr. Barbara Ann Teer's National Black Theatre (NBT) in Harlem, running Tuesday, June 2, through Sunday, June 28. "Fried Chicken & Latkes" is the actress-writer-comedian's funny take on her mixed-race heritage and growing up the daughter of one of the world's most beloved and iconic funny men, comic genius Richard Pryor.
Related: Listen to Rain Pryor talk to Danny Tisdale on Harlem World Magazines The Danny Tisdale Show >>>
"We are so excited for Rain to join the NBT family and round out the 46th season with 'Fried Chicken & Latkes.' This season, NBT has navigated the world through the eyes of the Black female playwright; and we complete this year-long journey with the healing power of laughter, through the nuance of identity. Our mission here at NBT is to create a home for every person that walks through our doors, to allow members of our community to see themselves in ways they may have never experienced before, activated by the unabashedly authentic stories on our stage. We hope you come out and enjoy Rain's piece as she serves up home on a comically diverse and complex platter," said Sade Lythcott, CEO of NBT.
The hilariously irreverent and poignant play is Rain Pryor's one-woman, theatrical, cabaret-styled show based on her life growing up Black and Jewish. It has been in development for several years and performed in Atlanta; New York; Winston-Salem, NC; Baltimore; and Washington, DC. Recently, the actress joined forces with acclaimed director Kamilah Forbes ("A Raisin in the Sun," "Lucky Guy," "Stick Fly," "The Mountaintop," "Holler If Ya Hear Me") to completely reimagine the work. In collaboration with NBT, Forbes has brought on a full creative team to mount the production, including Drama Desk Awardee Maruti Evans (scenic and lighting design), Dede Ayite (costume design), Eric Sluyter (sound design), Katherine Freer (projection designer) and Ayisha Hunt (stage management). Audiences can expect new songs, script elements and other production enhancements, including projection.
"The development of 'Fried Chicken & Latkes' has been cathartic and this fully mounted version is the culminating event," said Pryor. "With Kamilah's vision and the talent of a top-notch creative team, the June premiere marks the first time the show is more than me, a black curtain and a couple of black boxes. Thank the ancestors for creatives!"
Pryor plays the 11 characters most pivotal to her life and takes her audience on a musical journey through the late '60s, '70s and '80s and some little-known family history. Along the way, she offers a unique perspective on race, identity and the loss of her iconic father, Richard Pryor.
Tickets are on sale now for the production, which is playing at National Black Theatre, 2031 Fifth Avenue between 125th and 126th Streets in Harlem. (Take the 2, 3, 4, 5 or 6 subway to 125th Street.) Previews run Tuesday, June 2, through Sunday, June 7, with tickets at $20. The production officially opens on Thursday, June 11, marked by an Opening Night Gala that includes a 7 p.m. reception and 8 p.m. show. Performances will run June 12–28 on Thursdays, Fridays, Saturdays and Mondays at 7:30 p.m., with a Saturday matinee at 2 p.m.; Sunday performances will be at 4 p.m. There will be no show on June 18. Tickets are $30 general admission with the following exceptions: All seats during the final week are $40 and an Opening Night Gala ticket (Thursday, June 11) is $50. Discount tickets of $20 are available for groups (10 or more), senior citizens, students, active military members and veterans. Tickets can be purchased online at www.nationalblacktheatre.org, by calling NBT directly at (212) 722- 3800, or at NBT's Box Office from 1 p.m. to 6 p.m., Tuesday through Saturday.
Visit www.nationalblacktheatre.orgor follow NBT on Facebook (www.facebook.com/NationalBlackTheatre) and Twitter/Instagram (@NatBlackTheatre).
No related posts found...
---