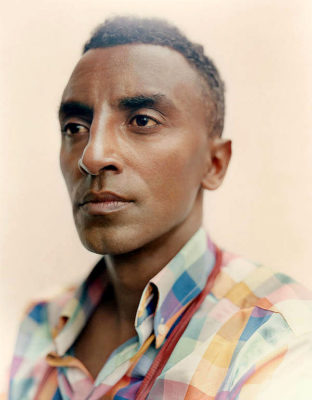 Bev Net reports that celebrity Chef and Harlem business owner resident Marcus Samuelsson has partnered with Pure Leaf Tea House Collection to create a new, original web series launching today on PureLeaf.com. Inspired by the expertise, craftsmanship and elevated taste experiences of Pure Leaf Tea House Collection, the "MasterCraft Series" follows Chef Samuelsson on his journey to forever change the way the world defines taste through his collaboration with four New York City craftsmen.
"Pure Leaf Tea House Collection and I share a passion for craftsmanship. As a chef, when it comes to crafting the perfect dish or drink, I think about taste in four elements: texture, temperature, fragrance and aesthetic," said Marcus Samuelsson, co-owner of Red Rooster Harlem and Streetbird Rotisserie. "In the 'MasterCraft Series,' we go on an exploration through collaboration to create the ultimate dining experience that will change the way we think about taste forever."
In the five-episode series, Chef Samuelsson explores each element of taste with the help of four talented New York City craftsmen, chosen for their expertise in connection to one of the elements. In the Fragrance, Aesthetic, Temperature and Texture episodes, Chef Samuelsson meets with each craftsman to discover how the element influences his craft, their craft, and ultimately the dining experience they create together. The featured craftsmen include:
Chandler Burr, Scent Expert and Author – Fragrance craftsman, known for his compelling scent dinners wherein he works with master chefs worldwide to create experiences that translate the relationship between scent and taste.
Kamil Nawratil, Visual Artist – Aesthetic craftsman, founder of Brooklyn-based VolvoxLabs, a cutting-edge media and visual design studio that creates digital sculptures and immersive audio-visual installations.
Shintaro Okamoto, Ice Sculptor – Temperature craftsman, founder of Queens-based OKAMOTO STUDIO, whose creativity and talent transforms crystal ice into frozen masterpieces.
Charlie Baker, Designer and Builder – Texture craftsman, founder of Queens-based Baker Structures and a sought-after maker known for his unique, textural designs that incorporate elements from the earth.
Taking inspiration from both the element and the unique flavor combinations found in Pure Leaf Tea House Collection, Chef Samuelsson and the craftsmen go their separate ways to bring each element to life through an immersive dining experience. Paired with Chef Samuelsson's recipes, viewers see expertise and craftsmanship at work as they watch it all unfold—from Burr's engaging scent journey to Nawratil's responsive aesthetic experience, Okamoto's interactive ice installation and Baker's immersive textural designs.
The series culminates with the Taste episode, in which viewers see these stunning outcomes of the collaboration and how each element comes together to create the ultimate taste experience, prepared and presented by Chef Samuelsson.
"Pure Leaf Tea House Collection's dedication to craftsmanship, with its expertly crafted blends and unexpected flavor combinations, is what creates the elevated taste experience in each bottle of the organic iced tea," said Jayanthi Raja Segaran, Director of Marketing for Pure Leaf at PepsiCo. "This is the inspiration behind the 'MasterCraft Series,' to show how expertise and craftsmanship create unexpected outcomes and elevated taste experiences."
The "MasterCraft Series" was created and produced by Creators League, PepsiCo's in-house content creation studio, in partnership with INE Entertainment and Olson Engage. Visit PureLeaf.com to watch the full series, learn more about each craftsman and get Chef Samuelsson's recipes.
For more information, visit www.pepsico.com
Related articles
Related Articles
VIDEO
---
Harlem Cultural Archives is a donor and foundation-supported Historical Society, Its mission is to create, maintain and grow a remotely accessible, online, interactive repository of audio-visual materials documenting Harlem's remarkable and varied multicultural legacies, including its storied past as well as its continuing contributions to the City and State of New York, the nation, and the world.
Support Harlem Cultural Archives
and
click here to get more Harlem History
, Thank you.