---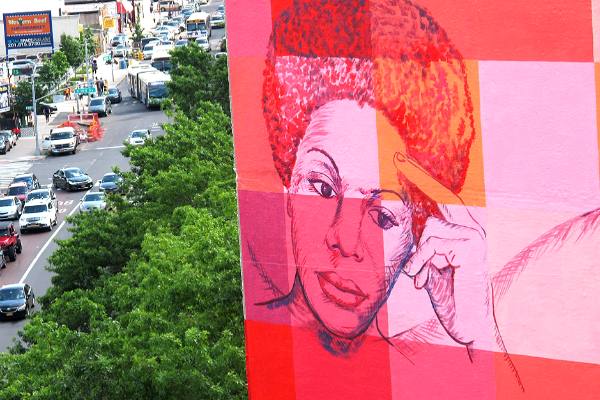 NYC Health + Hospitals' Arts in Medicine program today announced the second group of artists that will lead community-based mural projects at 10 facilities.
The artists, chosen from 143 applications, will engage patients/residents, staff, and local community members to create an integrated internal or external mural at NYC Health + Hospitals facilities. In a truly collaborative approach, the concepts for each of the murals will be developed through individual, virtual focus groups with patients/residents, staff, and community members, and then brought to life in designated paint sessions. Last year, nine artists led the process to develop murals in eight facilities that were representative of their communities.
The collaborative mural-making process is a tool to encourage creativity, build trust and engagement between the hospitals and their communities, reduce stigma, and foster pride in the public health system through community-building activities. In light of the ongoing COVID-19 pandemic, collaboration among groups will be facilitated virtually when possible, and in-person components of the project will exercise social distancing and require face coverings.
An additional theme of "Healthcare Heroes' Resilience and Strength Through COVID-19" will be added to the proposed prompts used to guide the groups' creative process. Collaborations will occur through the end of the year. The project is a flagship component of NYC Health + Hospitals' arts-based initiatives, made possible through the Laurie M. Tisch Illumination Fund and the Mayor's Fund to Advance New York City.
"Our Community Mural Project demonstrates the added value of incorporating art in medicine," said First Lady Chirlane McCray. "With collaboration among artists, patients, and healthcare workers, we've created another dimension to healing spaces for New Yorkers across the city. We are excited to continue this partnership and look forward to bringing murals to more communities this year."
"The Arts in Medicine Community Mural Project is another example of NYC Health + Hospitals' comprehensive approach to healthcare and our investment in whole communities, not just individuals," said NYC Health + Hospitals Senior Vice President and Chief Medical Officer Machelle Allen, MD. "After months of isolations, we're looking forward to safely bring together patients, staff, and community members and capture this moment-in-time through art."
"We're excited to kick-off the second phase of our Arts in Medicine Community Mural Project, engaging 10 additional communities within our health system to produce representative art of their history and diversity," said NYC Health + Hospitals Senior Vice President and Chief Quality Officer Eric Wei, MD, MBA. "Now more than ever, we're longing for a sense of community after experiencing the COVID-19 pandemic. The new murals that will proudly hang in 10 of our facilities throughout the city will reflect everything that brought us together during these challenging times."
"Working in a hospital can be inherently stressful," said Laurie Tisch, President, and Founder of the Laurie M. Tisch Illumination Fund. "The murals created last year had an extraordinary impact in their communities, bringing joy and creative spirit to healthcare workers, patients, and neighbors. The next group of murals promises to provide an innovative and therapeutic way to address stress and burnout, as well as to build stronger community support for the hospitals."
The artists and their assigned NYC Health + Hospitals facilities are:
The artists were selected through a rigorous process.
Criteria included:
Demonstration of prior collaborative community engagement
Artistic excellence through a portfolio review
Understanding of how to work with materials suitable for a healthcare setting
Application of one of four proposed central themes, which included: Stronger Together, We are Part of
Something Great, We Make a Difference, Health & Wellness for All, Freedom to Thrive, and ICARE Values (Integrity, Compassion, Accountability, Respect, Excellence)
An interview with members of the selection committee
"The mural now displayed in the lobby of the NYC Health +Hospitals/North Central Bronx was painted in partnership with doctors, healthcare professionals, artists, patients, and members of the community," said a patient and community member, D. Then. "It is a beautiful reminder of the caregiving and healing healthcare staff provide Bronxites and our community. Their selfless commitment is memorialized through the stages of life and healing that occur within the walls of the hospital."
"Art is a valuable component of promoting patient well-being, whether in mental, behavioral, or even physical health care," said Assembly Health Committee Chair Richard N. Gottfried. "Thank you to the Laurie M. Tisch Illumination Fund and the Mayor's Fund to Advance New York City for helping NYC Health + Hospitals continue to be a national leader in providing a comprehensive and diverse set of patient and staff supports and services."
"Art and creativity have a way of brightening the lives of people in the community, even in the toughest of times," said Senator Toby Ann Stavisky. The Arts in Medicine Community Mural Project has found a great way to safely bring hospital staff, patients, and neighbors together to inspire each other at a time where positivity is sorely needed."
"Art and healing really do go hand-in-hand," said Council Member Ben Kallos. "The Arts in Medicine Program is a win for everyone involved, as it provides opportunities for artists to get their work seen and it helps New Yorkers who happen to come across it feel better. This program has my full support and I cannot wait to see the new murals once they are finished."
Being sensitive to the ongoing COVID-19 threat, components of the mural developing process will be adjusted, including hosting focus groups virtually, and in-person paint sessions will be organized in large settings to account for social-distancing, with painters participating in shifts.
The Community Mural Project builds upon a mural tradition that started in the 1930s when the depression-era Works Progress Administration supported the creation of hundreds of murals across New York City's public hospitals, and that continued decades later with murals by world-famous artists such as Keith Haring and Kenny Scharf. The Community Mural Project connects artists, local community members, and hospital staff to re-imagine hospitals and promote greater neighborhood wellness.
Last year, eight NYC Health + Hospitals facilities worked with nine artists to develop muralsthat were representative of their communities, including NYC Health + Hospitals/McKinney that honored Dr. Susan McKinney, the first African-American woman to earn a medical degree in New York State in its external mural.
The Community Mural Project is made possible with a grant from the Laurie M. Tisch Illumination Fund through the Mayor's Fund to Advance New York City. The fund awarded NYC Health + Hospitals a total of $1.5 million in February 2019to expand programs serving health care staff, patients, and communities in sites across the City. This grant allows NYC Health + Hospitals to launch new programs that use the arts as a resource to promote employee wellness and resilience; to combat compassion fatigue and burnout.
The Arts in Medicine program at NYC Health + Hospitals seeks to foster the emotional well-being, promote healing, wellness, and engagement of patients, families, employees, and the greater health system's community by integrating all disciplines of the arts such as literary, visual and performing arts throughout the public hospital system.
NYC Health + Hospitals curates the largest public art collection in New York City and is committed to preserving more than 5,000 works of art and making them accessible to the public. The history of the art collection dates back to the 1930s, when the Works Progress Administration's Federal Art Project hired artists to create works for government buildings. NYC Health + Hospitals was the fortunate recipient of approximately 60 mural panels. Today, the organization recognizes the historic and cultural significance of these murals and works to preserve them.
NYC Health + Hospitals is the largest public health care system in the nation serving more than a million New Yorkers annually in more than 70 patient care locations across the city's five boroughs. A robust network of outpatient, neighborhood-based primary and specialty care centers anchors care coordination with the system's trauma centers, nursing homes, post-acute care centers, home care agency, and MetroPlus health plan—all supported by 11 essential hospitals. Its diverse workforce of more than 42,000 employees is uniquely focused on empowering New Yorkers, without exception, to live the healthiest life possible. For more information, visit www.nychealthandhospitals.org .
The Laurie M. Tisch Illumination Fund is a New York City-based foundation that strives to improve access and opportunity for all New Yorkers and foster healthy and vibrant communities. Founded in 2007 by philanthropist Laurie M. Tisch, the Illumination Fund plays an active role in supporting innovative approaches across a range of issues—increasing access to healthy food, building healthy communities, supporting economic opportunity and ensuring that arts and arts education are accessible to all. In 2018, the Illumination Fund launched Arts in Health, a $10-million-dollar, multi-year initiative to support organizations working on health issues that impact New York communities and that emphasize the arts as a tool for healing and building understanding. The areas of focus include addressing mental health stigma, trauma, and aging-related diseases. For more information, visit www.lmtif.org
To learn more about the programs that are a part of NYC Health + Hospitals' Arts in Medicine, please visit https://www.nychealthandhospitals.org/artsinmedicine/.
Photo credit: Tova Snyder.
---