---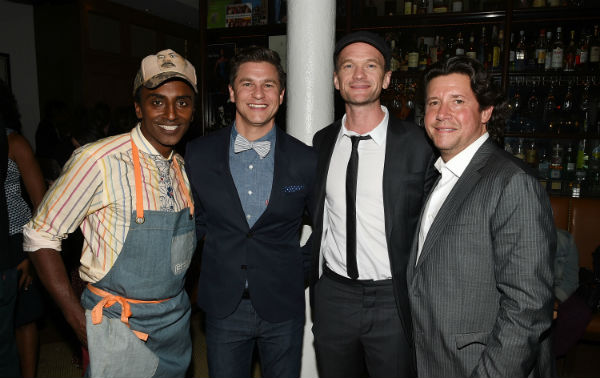 President Bill Clinton, Founder of the Clinton Foundation and 42nd President of the United States, officially kicked-off the inaugural Harlem EatUp! Festival, Saturday May 16, 2015 in Morningside Park. 
Related: Listen to The Danny Tisdale Show as he speaks to Event Ambassador/Wellness writer CC Minton and Food writer Lil Nickelson with Danny about Harlem Eat Up >>>
The festival, co-founded by Chef Marcus Samuelsson and Herb Karlitz, represents the renewed spirit of Harlem while paying homage to its roots.
"I have been coming to Harlem for more than 45 years. Nothing characterizes this neighborhood more than the food – all the different restaurants, all the people who provided," said President Clinton. "I'm really grateful that somehow you guys got all of these world famous chefs from all over America to come here and cook. I think you did it so you'd have bragging rights – that the locals are better. "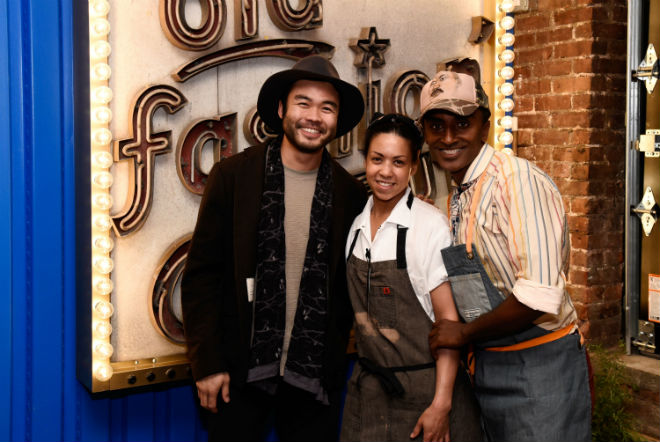 As part of its mission and dedication to the Harlem community, net proceeds from ticket sales will be donated to beneficiaries Harlem Park to Park and Citymeals-on-Wheels.
Harlem EatUp! continues tomorrow, Sunday May 17 in Morning Side Park with free events open to the public from 12PM to 4PM. Event details below. www.HarlemEatUp.com.
Twitter: @HarlemEatUp // Instagram: @HarlemEatUp // Facebook: Facebook.com/HarlemEatUp
"A Sunday Afternoon In Harlem"
​Time: 12:00 PM – 4:00 PM
Location: Morning Side Park (112th Street and Manhattan Avenue)
About "A Sunday Afternoon In Harlem": Sundays in Harlem are made for family, friends, and delicious fare. This event, inspired by Harlem's iconic "Gospel Brunch", will feature food from local restaurant vendors, tasting tents featuring wines, beers and spirits, a live gospel choir and Harlem musicians. There will be local art on display and interactive activities for young and old alike—a Kids' Zone presented by Aetna with interactive gardening, yoga, and baking demonstrations.
Sports Zone featuring the New York Knicks and New York Red Bulls
·         12-4PM – Knicks Groove truck games for prizes
·         12-1PM – on court –  Knicks shooting games for prizes
·         1-2PM – on court – Knicks City Dancers to sign autographs, possible dance clinic
·         2-3PM – on court – Knicks alumni appearance; Knicks clinic for 40 children
·         3-4PM – on court – Knicks shooting games for prizes
​​Participating Restaurants: Bier International, BLVD Bistro, BTH, Charles Country Pan Fried Chicken, Flat Top Bistro, Harlem Shake, Harlem Tavern, La Bodega 47 Social Club, Make My Cake, Ponty Bistro, Seasoned Vegan, Sisters Caribbean Cuisine, Streetbird Rotisserie
Participating Artists: Ivan Forde, Pontus Höök, Lanie McNulty, and Tyson Hall
Participating Musicians: DJ Stormin' Norman, Harlem One Stop / Harlem Swings!, Harlem School of the Arts, National Dance Institute, Vy Higginsen: Mama Foundation for the Arts
Other Participants: Morningside Park's Down to Earth Farmers Market (ChampagneTea.com, Meredith's Country Bakery LLC, Mortgage Apple Cakes, LLC, Pickle Licious, Tierra Farm), Friends of Morningside Park, Harlem Business Alliance (Limation, Mere Viola's Sweet Delights, Sol Cacao: Fine Chocolate Makers), Jule's Gourmet Food, Land Yoga, and The Sylvia Center
---