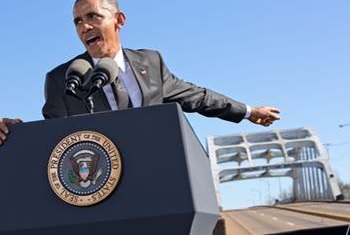 Charter Communications, Smithsonian Channel and The National Jazz Museum in Harlem are partnering to present a private screening of The Obama Years: The Power of Words, a look back at President Obama's legacy as a world-class orator and "writer in chief".
This special will take viewers inside the defining moments of his political career through the prism of his most memorable speeches. Narrated by Jesse Williams, star of the hit series Grey's Anatomy, this program also features insights from eminent historians Doris Kearns Goodwin and Douglas Brinkley and key members of Obama's inner circle, including senior advisor Chief Strategist David Axelrod, and speechwriters Jon Favreau and Cody Keenan.
Guests include:
Michael Blake, Assembly Member
Claire Jerry, Ph.D., Curator, Division of Political History, National Museum of American History
Charles Poe, Senior Vice President, Production, Smithsonian Channel
The Obama Years: The Power of Words will premiere on Monday, February 27th at 8 p.m. ET/PT on Smithsonian Channel.
The National Jazz Museum in Harlem, 58 W 129th Street, New York, New York 10027
---
Become a Harlem insider - Sign-Up for our Newsletter!
---
Related Articles
---
VIDEO
---
"Dr. Harry Delany is a renowned Harlem born and raised surgeon, the son of the great jurist and civil rights leader, Hubert Delany...." This monthly post is made in partnership with Harlem Cultural Archives.