---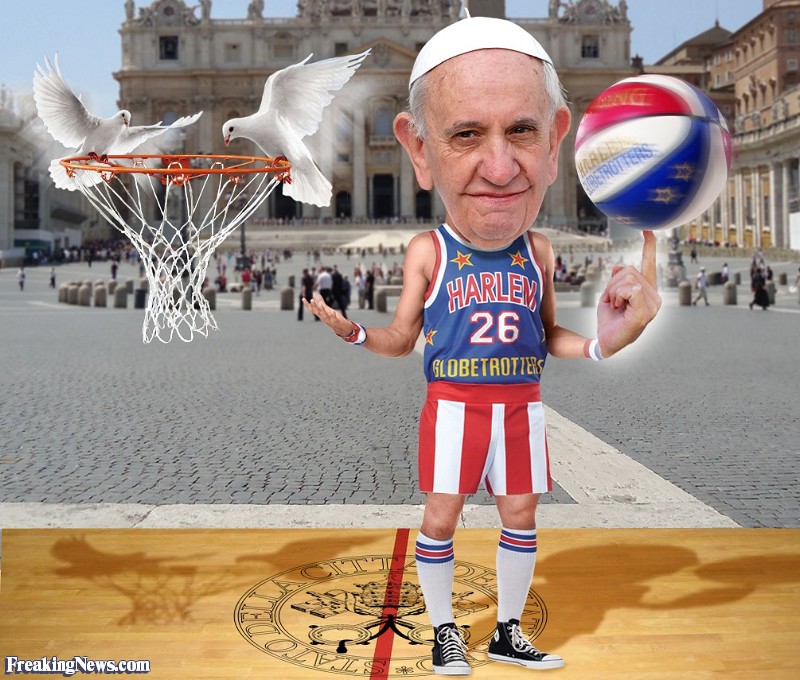 Pope Francis didn't have a prayer of spinning a basketball — but scored a slam dunk Wednesday, May 6th, 2015 as an honorary Harlem Globetrotter.
Francis took a break during his weekly general audience to join the famed hardwood wizards at St. Peter's Square, where Flight Time Lag set a spinning red-white-and-blue ball on the beaming pontiff's finger.
It fell a second later, but The Big Pope Pa took it in stride and joked with teammates Hi-Lite Bruton, Ant Atkinson and Big Easy Lofton, who then entertained the Vatican masses with their God given moves.
The players presented Francis with a framed jersey with "Pope Francis" printed across the back —proclaiming him the ninth honorary Harlem Globetrotter in team history.
They then encouraged him to play with them as they tour Italy.
"We are very humbled by the opportunity to bestow this honor upon Pope Francis," Globetrotters president Kurt Schneider said in a statement. "His tireless work for the well-being of the poor and elderly, his humanitarian efforts and his commitment to bridge gaps between people of various cultures are ways the Harlem Globetrotters also aspire to touch lives around the world. He embodies the Globetrotters' efforts to provide service, smiles and sportsmanship globally."
Other popes have been blessed with visits by the iconic team — including Pope John Paul II, who was named the seventh honorary team player in 2000.
Have any ideas for a nickname for the Pope since all Globetrotters have one (The Big Pope Pa)?
Source and photo credit via Freakingnews.
---