---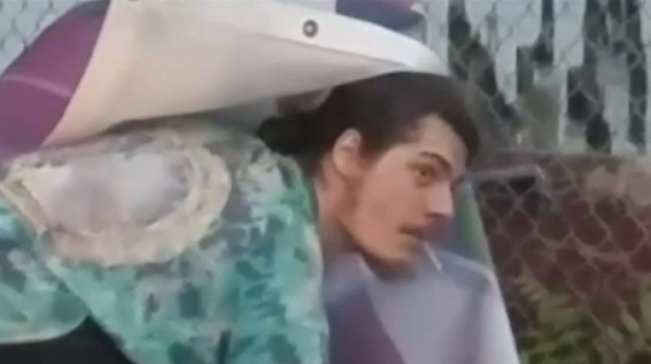 Police are searching for the ponytailed man in a tie-dye shirt captured on clear, close-up video snatching a specially commissioned art banner from a East Harlem park last month. 
The 60-foot long, seven-foot tall mural by Kenny Scharf was taken from the park at East 116th Street and the FDR Drive at about 8 p.m. on Saturday, Aug. 20, according to police.
The suspect, who's seen on video gathering up the massive banner off the fence while he has a cigarette in his mouth, hauled it to a small SUV and drove away northbound on the FDR Drive, the NYPD said.
The man is described as being about 25 to 35 years old, last seen wearing a tie-dye shirt, black shorts and black sandals.
Another suspect, a woman with blond hair, is also being sought, police said. No image of her was immediately available.
It was the second time Scharf's art was stolen from the location since it was installed in June. Just days after it was put up — part of a beautification project designed to attract people to the East Harlem waterfront — the mural was stolen the weekend of June 25, a source reports.
Conservacy group Friends of the East River Esplanade reprinted the mural at a cost of $2,000 and installed the new one in early July.
It's not clear if police think the same man is behind both thefts.
Scharf was popular in the 1980s for his playful paintings of iconic pop culture figures.
---