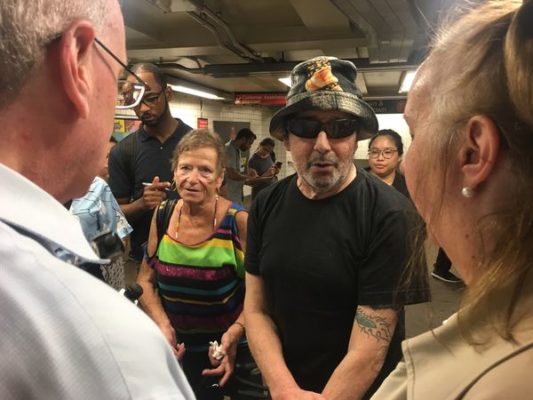 The Patch reports that Dirty platforms. Crowded trains. And, above all, chronic delays. Those are some of the complaints dozens of New Yorkers related to politicians as they toured subway stops on Thursday.Raymond Acevedo, 63, discussed the difficulty of getting around the subway while using a walker. His wife Sheryl Acevedo, 61, told elected officials there should be more elevators at the Chambers Street J and Z train stop.
Harlem Elected Ydanis Rodriguez On Vision Zero And Streets SafetyDuring his time as Chair of the NYC Council Committee on Transportation, Harlem Council Member Ydani…Apr 28 2017harlemworldmag.com
After a group of politicians and journalists dispersed, the couple said they welcomed the attention.
"They try their best," said Raymond Acevedo, a retired iron worker. "There should be more communication between officials and the working stiff."
About 25 volunteers accompanied the elected officials, asking subway riders to answer surveys about service.
Upper Manhattan Councilman
, who chairs the Transportation Committee, said the info will give him ammunition at an Aug. 8 hearing about the subways.
Harlem Rep. Ydanis Rodriguez Remembers Those Who Have Served & Given Their Lives For FreedomDear Neighbor, Today we honor the dedication and legacy of those who have given their lives to serv…May 29 2017harlemworldmag.com
"We are so committed to work together to take the transportation system and especially the train services to the 21st century," he said. "The only way that will happen is if riders get their voices heard."
The Thursday tour, which started at the 242nd Street stop in the Bronx and took a circuitous route to Times Square, came as elected officials have battled over the subway. Politicians are divided over Gov. Andrew Cuomo's call for the city and state to split the $836 million cost of emergency repairs for the system. Rodriguez and other officials on the subway tour avoided the topic on Thursday.
At the 4, 5 and 6 train stop at 125th Street in Harlem, Elsa Elcock voiced a populist stance on subway costs.
"Sometimes I can't afford the fare," Elcock, an unemployed woman in her 50s, told City Council Speaker Melissa Mark-Viverito and a volunteer. "The transit is becoming rich. They're getting rich off poor people like me."
---
---
Doni Simmons seemed bemused by the survey questions.
Harlem's Ydanis Rodriguez Responds To Gov Cuomo Announcements on MTAFollowing the announcement by NY Governor Andrew Cuomo and MTA Chair Joe Lhota that $1 billion in em…Jun 29 2017harlemworldmag.com
"What is the biggest issue with the subway system? And I'll give you options," a volunteer asked him. "Overcrowding, time delays, inaccessibility or broken elevators, service changes or station closings –"
"All of the above!" Simmons interjected, though he eventually chose delays.
After the survey ended, he recounted answering similar questionnaires in the 1970s.
"I don't know if it's going to do any good," he said. "It's just a show."
Still, Bronx Assemblyman Jeff Dinowitz said the subway tour had been "very productive."
"One thing is clear. The riders we've spoken to don't care who's in charge. They want to see results," he said.
Lead image of Sheryl and Raymond Acevedo speaking with Assemblyman Jeff Dinowitz and Manhattan Borough President Gale Brewer by Shant Shahrigian/Patch.
Related Articles