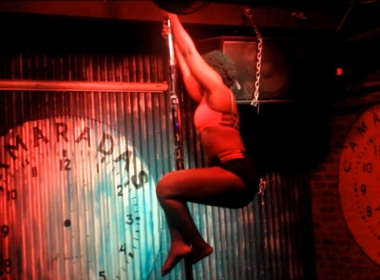 Rolling Out reported that on a breezy autumn night in Spanish Harlem, the art of pole dancing was on full display at the "Body Art" showcase. Pole dancers converged on Camaradas El Barrio on 1st Avenue  to celebrate the human form and spirit with a showcase of pole dancers from around the city.
Hosted by healer and wellness instructor Panquetzani, women and men took to the stage to display their talent and to express themselves while continuing to invite others to take part in the benefits of pole dancing. Among the participants was famed dancer XO, Tarzan, who's contributed his choreography to Madonna's Rebel Heart Tour and performed with Grace Jones. As someone who made a name for himself in the world of commercial dance, he advises anyone interested in learning how to pole dance to embrace fitness overall.
"Take care of your body," he advises. "You have to make sure you're eating well, sleeping, and working out. Dancing is a cardio form so you defintely have to workout! Take care of yourself. I took a workshop from Ciara's choreographer Jamaica Craft … she said, 'If you stay ready, you never have to get ready.'"
"Whenever I tell people about pole, they always say, 'Oh, you're going to [the strip club] Sin City now? Ha-ha-ha,'" dancer/instructor Starr Rocque explains. "I don't have anything against strippers. I think strippers are great. But pole dancing is a sport. You can do with it what you want: you can be sexy if you want to. You can just do tricks if you want. You can just walk around the pole if you want to. It's not just about stripping. It's not just about fitness. It's a real movement."
"Body Art" was the conception of dancer and instructor Makeda Voletta. She was inspired to bring various forms of African dance together, and pole dancing became a natural draw for both participants and the audience. For her, it's about connecting everyone to expression and being open about sensuality.
Read the entire story here
Related Articles
---