---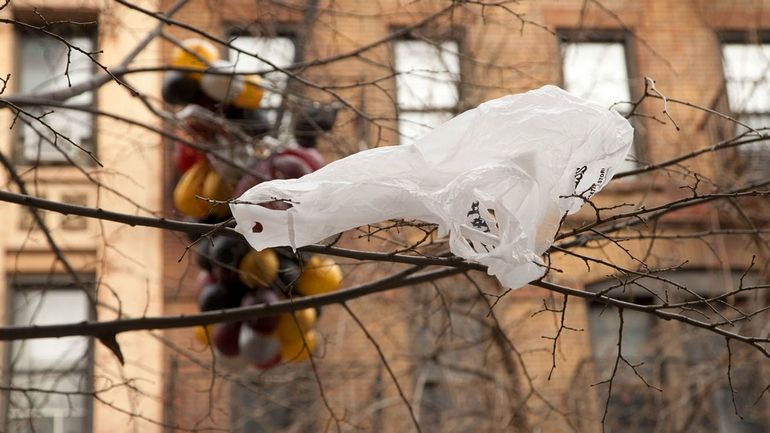 A statewide ban on plastic bags means grocery stores, food establishments and other New York businesses must stop using them from March 1, 2020 — and in New York City consumers will also be charged 5 cents for every paper bag they use.
Here's what you need to know:
Why has this law been passed?:
About 10 billion plastic bags are discarded each year in the city, with workers picking up more than 1,700 of them each week, according to the Department of Sanitation.
"City residents use billions of single-use carryout bags every year, and they are frequently used for only a few minutes at a time," the department's commissioner Kathryn Garcia said.
"Plastic bags are particularly troublesome as contaminants in our recycling as they often clog machinery, and we've all seen plastic bags stuck in city trees around the city."
The law aims to vastly eliminate that litter.
What does it mean to my everyday life?
When you go shopping, you will no longer be handed your products in a plastic bag. Any business required to collect state taxes from customers will be banned from using them.
What will I carry my purchases in instead?
The state recommends bringing your own bags with you when you go shopping. Most stores will have reusable bags for sale or paper bags for a 5 cent charge, but they are not required to. It's possible some stores won't provide any bags.
The Sanitation Department has given away 70,000 reusable bags since 2016.
Does this mean all plastic bags are banned?:
No. There are exemptions.
They are for bags
Used solely to contain or wrap uncooked meat, fish, seafood, poultry, or other unwrapped food, flower, or plant item;
Used by a customer solely to package items from bulk containers, including fruits, vegetables, grains, candy, small hardware items (such as nuts, bolts, and screws), live fish, or live insects;
Used solely to contain food sliced or prepared to order;
Used solely to contain a newspaper for delivery to a subscriber;
Sold in bulk quantities to a consumer at the point of sale that were specifically pre-packaged in a manner to allow for bulk sale (for example, quantities of bags prepackaged in individual pre-sealed boxes) or prepackaged in individual boxes or containers for sale to a customer;
Sold as a trash bag;
Sold as a food storage bag, such as those in snack, sandwich, quart, and gallon sizes;
Used as a garment bag, such as those used by a dry cleaner or laundry service;
Provided by a restaurant, tavern, or similar food service establishment, as defined in the state sanitary code, to carry out or deliver food;
Provided by a pharmacy to carry prescription drugs;
A reusable bag, as that term is defined in proposed Part 351 draft regulations; or
A film plastic bag for which there is no reasonable or practical alternative for storing, containing or transporting items, as determined by the department.
Via source
---