---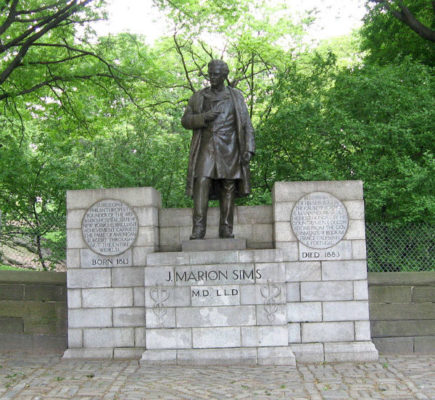 When images of white supremacists taking the streets in Charlottesville first surfaced, thousands of New Yorkers participated in rallies to condemn the hateful actions and rhetoric of white supremacist groups. The protests were powerful affirmations of our city's stance against racism and hatred.
But even though New York City is seen as a progressive place, we must not let this reputation blindside us. The history of racism isn't particular to Charlottesville – New York must recognize white supremacy in our own backyard and we must take steps to upend it.
According to Sims, "black women don't feel pain."
For years, activist groups around New York City have been doing just that by calling for the removal of a statue of Dr. J. Marion Sims, who repeatedly performed surgical experiments on enslaved black women in the 19th century without their consent and without anesthesia. According to Sims, "black women don't feel pain."
Join A Panel Discussion Regarding The Statue Of J. Marion Sims An "Medical Apartheid" DoctorEast Harlem Preservation invites you to attend an in-studio panel discussion regarding ongoing effor…Jan 25 2017harlemworldmag.com
Recently, Black Youth Project 100 (BYP 100) held a powerful protest in Central Park calling for the statue to be removed. Planned Parenthood of New York City joined City Council Speaker Melissa Mark-Viverito and other elected officials and partners at a rally calling for the removal of this statue. East Harlem Preservation has also been calling for this statue to be removed for a decade.
PPNYC strongly condemns the statue of Dr. Sims because it sanctions racism, hate, and abuse of black women. We stand with the many groups calling for its immediate removal.
This call to action goes beyond merely removing a statue or symbol. We need to recognize and call out white supremacy as a fundamental and systemic problem that fuels racial and economic inequality and reproductive oppression.
Dr. J. Marion Sims, The Founder Of The Harlem Women's HospitalAt the time of his death in 1893, there was no controversy at all: Dr. J. Marion Sims was heralded a…Mar 13 2014www.harlemworldmag.com
America has a long history of controlling and threatening the safety and body control of people of color. White supremacy affects the people who come to Planned Parenthood for care and their ability to determine their own destiny. We cannot lose sight of that as we continue to fight to expand and improve reproductive health care for all.
Black women are still three-and-a-half times more likely to die in childbirth than white women in The United States. Laws that block access to abortion and contraception disproportionately impact low-income communities, including immigrants. Women of color, who are more likely to rely on Medicaid to receive health care, risk losing access to life-saving services like cancer screenings, STD testing and treatment, and more, because of Congress' shameless attempts to defund Planned Parenthood.
Support Removal Of The Harlem Statue Of Dr. J. Marion Sims Experimented On Enslaved Black Women IN an e-mail from East Harlem Preservation: Our campaign to remove the statue of  J. Marion Sims—…Aug 19 2017harlemworldmag.com
At PPNYC, we know that a statue that represents violence and hatred and a lack of medical care has no place in our city. We also know that our work will continue beyond the statue's removal. PPNYC is more committed than ever to delivering compassionate care, and to building a city where no one has to live in fear of exclusion, harassment, or violence.
At PPNYC, we welcome people of all races, backgrounds, ages, incomes, and immigration statuses to our doors for high-quality health care. We will never turn away anyone seeking health care – no matter what.
Not just because our patients' lives are at stake, but because that is our mission – to ensure that all New Yorkers can access the care they need to lead safe and empowering lives.
The Statue Of Dr. J. Marion Sims Who Experimented On Slaves Is Defaced And MoreGothamist reports that as the mayor's office begins its "90-day review of all symbols of hate on cit…Aug 28 2017harlemworldmag.com
Planned Parenthood of New York City stands with BYP 100, East Harlem Preservation, and other groups and activists speaking out against racism and white supremacy. As the injustice of racism persists, none of us can be silent. For the sake of our city and our country, all of us must take a stand.
Related Articles
---