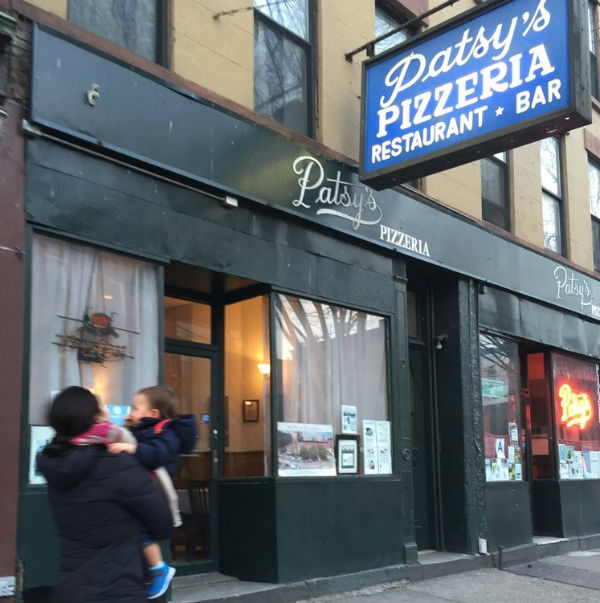 Yari Said:
"Best pizza I have ever had, and this is saying a lot coming from a native New Yorker. Amazing. I have never had a pizza so thin, it truly is paper thin. However, it compensates for its thickness with its taste….
… God, does this pizza pack a punch. It tastes like heaven, the holiest grail of all pizzas. This may sound exaggerative, but everyone I've taken here has agreed. And for the quality, the pizza is cheap. So now that you know the pizza is godly (and the quality is always up to par!) onto service, ambiance, area, and other stuff.
In this city, there can be some shady restaurants with mean service, but never at Patsy's. The waiters are dutiful and kind, and usually pleased to serve you.
I love the ambiance, it looks somewhat fancy but you can still laugh and joke around with your friends. Every time I go it's kind of empty there, but I hear it's crowded Saturday nights. I love that they don't make you wait outside like so many other "famous" pizza joints. You'll also never be seated next to strangers (like other pizza joints.. I'm looking at you Grimaldi's!). This place is ridiculous, and I'd cry if it ever got closed down.
I love the area this is in, because it's nostalgic for me. I used to live in East Harlem. Trust me, there are worse parts. Damn, I need to go back to Patsy's ASAP."
Frank Sinatra said:
"…ever have pizza at Patsy's on 117th Street … greatest pizza in the world, ain't nothing like that, I don't care where the hell you go, all over Italy you don't get nothing like that…."
The Patsy's Pizza, 2287 1st Avenue, New York, NY 10035, b/t 117th St & 118th Street, East Harlem, New York, (212) 534-9783, thepatsyspizza.com (via Google).
Any other suggestions?
Related Articles
---