---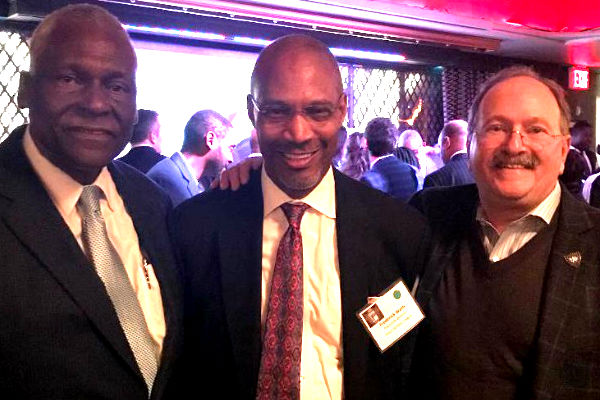 On Monday, December 9, 2019, City and State debuted the inaugural Black Power 100 list at a reception celebrating the outstanding achievements of New York's most influential at Ginny's Supper Club at the Red Rooster Harlem, NY. Frederick J. Watts, Police Athletic League Executive Director, was honored to join this inspiring list of 100 individuals who have had significant impacts in the Black community. These game-changers in their respective fields have consistently challenged the status quo through creating movements, changing the culture and bettering society. With Keynote Speaker Congressman Gregory W. Meeks leading the program, the event brought together leaders from a variety of sectors who possess an incredible and innate passion for innovation, culture and community leadership
Frederick J. Watts, appointed PAL Executive Director in 2014, oversees one of New York City's oldest and largest independent not-for-profit youth services agencies providing a wide array of youth development programs including childcare and pre-kindergarten programs; education, arts, sports; college prep and work readiness programs; and juvenile justice programs.
Mr. Watts began his professional career as a prosecutor at the Manhattan District Attorney's office. Appointed by Robert M. Morgenthau to serve as an Assistant District Attorney, he remained a prosecutor under Mr. Morgenthau, and later Cyrus R. Vance Jr., for over 30 years. He handled all forms of violent crime including the investigation and prosecution of sexual assaults, and homicide cases. He was promoted to supervisory positions, and served as a key executive in the office for over 20 years, culminating in the position of Executive Assistant District Attorney for Finance and Administration.
Mr. Watts's additional professional and community activities have included service on the Judiciary Committee of The City Bar Association; membership in the National Black Prosecutor's Association; Board member of the Prosecutors' Center for Excellence; Board member of the Summit New Jersey Area YMCA; mentoring high school students studying law, and coaching youth sports teams. He is a graduate of Brown University with a degree in Economics, and Columbia University School of Law.
New York City's Police Athletic League is the first and finest civilian-run PAL in the country. Founded in 1914, PAL has served the city's young people for over 100 years. PAL provides recreational, educational, cultural and social activities to 20,000 boys and girls annually. It is also the city's largest, independent, nonprofit youth organization. For more information, please visit www.palnyc.org.
Photo caption: PAL Executive Director Frederick J. Watts Honored at City & State's The Power of Color: Black 100 List event with (left to right) Keith Wright, Former NYS Assemblyman; Frederick J. Watts, Police Athletic League Executive Director and Bart Schwartz, Police Athletic League Board member.. Photo courtesy of Police Athletic League.
---