---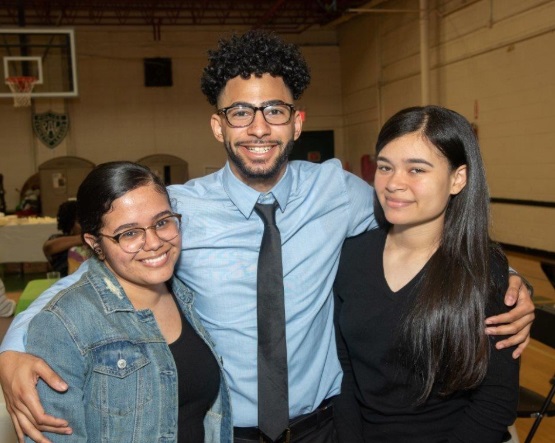 On May 8, 2018, Police Athletic League children, families, friends and supporters gathered at the PAL William J. Duncan Center in Manhattan to celebrate the recipients of the Robert J. McGuire Scholarships, including Manhattan residents. Fred Wilpon and PAL Board member Robert J. McGuire joined PAL Executive Director Frederick Watts to present the awards to the PAL students.
Many of the young people who participate in PAL programs look forward to higher educational opportunities. The Robert J. McGuire Scholarships are offered to PAL student-members entering their first year of college. The twelfth annual awards ceremony highlighted their goals, achievements, hopes and dreams and applauded the efforts of Carmen Abuzid, Dynasty Austin, Jordyn Bland, Sean Dozier, Natasha Smith and Shakiya Spear, all 18 years old, of the Harlem Center in Manhattan and Kialy Marte and Felix Santos, both 18, of the William J. Duncan Center in Manhattan. A total of 22 students from PAL centers across the five boroughs were recognized. Introduced by their PAL mentors and role models, these scholarship recipients spoke eloquently about their personal experiences and the impact the awards will have on their futures.
"The PAL Robert J. McGuire Scholarship has been funded by Fred Wilpon, owner of the New York Mets. Mr. McGuire, who is currently a Vice Chairman on the PAL Board of Directors, has served PAL since 1978. His long standing commitment to public service includes service as an Assistant United States Attorney and as Police Commissioner for the City of New York," said PAL Executive Director Frederick Watts. "We are proud to honor Mr. McGuire and deeply appreciative of Mr. Wilpon's generosity. We are grateful to both men for their steadfast and loyal support to our PAL children."
The scholarship funds provide the young winners with a monetary gift from PAL to help defray the expenses of their freshman year in college. Eligible applicants must have participated in PAL programs for a minimum of one full year and provide proof of college admission and attendance.
New York City's Police Athletic League is the first and finest civilian-run PAL in the country. Founded in 1914, PAL has served the city's young people for over 100 years. PAL provides recreational, educational, cultural and social activities to 35,000 boys and girls annually. It is also the city's largest, independent, nonprofit youth organization. For more information, please visit www.palnyc.org.
Photo Caption: PAL Participant, Winners of the Robert J. McGuire Scholarship Felix Santos and Kialy Marte of PAL's William J. Duncan Center in Manhattan. Photo Courtesy of Police Athletic League
Related Articles
---