---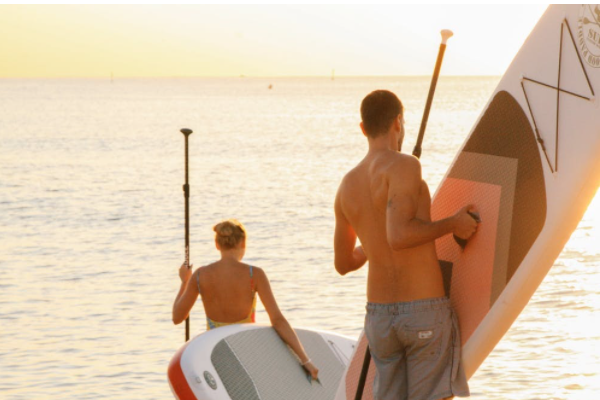 Paddleboarding has become one of the hottest water sports for summer. 
The activity is relatively inexpensive and easy to learn, but finding the perfect board may not be as simple. 
Paddleboards come in a variety of shapes, sizes, weights, and materials which means finding the right paddleboard can feel like finding a needle in a haystack. Answer these questions before you buy your next paddleboard to ensure that it will meet all of your needs.
What are your goals as a paddleboarder?
Do you paddleboard for entertainment, or because you want to be fitter? If you paddleboard for entertainment, finding a board that is lighter and faster will be important. However, if you want to get fitter, finding a board with more stability may be best.
What style of paddleboard is right for your needs?
There are recreational, racing, fitness boards , touring boards, and inflatable paddleboards. It's important to know what you plan on using the board for before finding a style that will work best for your needs.
What type of water do you plan to use the board in?
If you paddleboard in waves, finding a board that is more maneuverable will be important. If the water is flat or calm, finding one with less stability may be best. Whether you use the board in tight spaces like coves or bays versus more open bodies of water like lakes or rivers matters in your choice. This is because the water affects the function of the paddleboard.
What are your weight and height?
A heavier person will need a board with more stability and less buoyancy. A lighter person may not have as much trouble finding the perfect paddleboard for them. Your height also factors into your decision to purchase a board. If you are shorter, finding a board with more stability will be important so that it doesn't tip over as easily.
What is your paddling experience?
If you have never paddle boarded before, finding one of the lighter boards may be best to learn on. If you have a lot of experience and like playing in waves, finding a board with more stability may be best.
What's your budget?
Paddleboards can range in price from $400-$1000 but finding the perfect paddleboard isn't always about paying more money. You also buy according to the features available. 
For example, does it have fins on both ends that allow for 360 degree turning capabilities? Is there an option for adding accessories such as carrying handles, non-skid pads on the bottom to prevent slipping when wet, bungee cords to hold items securely while paddling, etc.
If you want all these features, you must determine what is your budget for buying a new paddleboard that fits all these criteria – can it be less than $500 or more than $1000 per board size/type. You may find what you're looking for at an affordable price, it just takes some time.
Which type of material should your new paddleboard be made out of (i.e., wood, glass)?
If you are looking for a paddleboard that is more lightweight, finding one made out of glass may be an option. However, not all boards made out of glass will have the same weight capacities as other materials so it's important to find this information first before purchasing your new paddleboard.
Another example is if you paddleboard in saltwater and the board is made of wood or another material that doesn't hold up well to saltwater, be sure to clean it after every use.
What kind of weather conditions you'll be riding in?
Make sure the material your paddleboard is made of is strong enough to withstand the weather conditions you'll be using it in. If you tend to ride in rough weather, finding a board made of glass may be best because they are more stable.
How often will you be using the board and how rugged does it need to be?
If you are finding a board for infrequent use, finding one that is less expensive may be best. However, if you plan on using it often or in rough waters (i.e., paddleboarding in the ocean) finding a more heavy-duty board with built-in features such as non-skid pads to prevent slipping, a deck pad, carry handles, or bungee cords to secure items may be needed.
Choose a color that matches your personality
Finally, your paddleboard is an expression and an extension of who you are. If you like to stand out and be different, finding a board that matches your personality and is not just the same as everyone else may be important.
There are many different types of paddleboards, so it is important to find one that suits your needs. In the end, picking a new board will be an investment in yourself and your health – enjoy!
---