---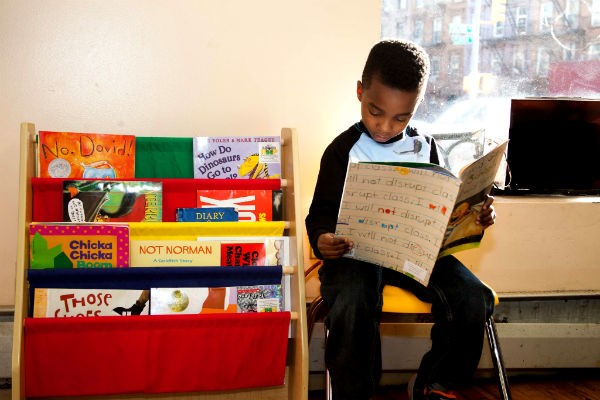 The first day of each month (a.k.a. Literacy Across Harlem Day), Total Equity Now encourages you to #RockThoseReads–carry reading materials proudly and publicly, everywhere you go.
(You know what to do Thursday, October 1!)
Once a year, Total Equity Now "go big" with the Literacy Across Harlem March, Book Drive & Community Celebration, engaging community members from East, Central, and West Harlem in celebrating Harlem's legacy and culture of literacy.
Due to the health crisis, Total Equity Now has switched up our usual format for a more contained, completely park-based event centered around two core activities.
1. Read-Alouds: 2 Hours, 4 Reading Stations, 16 Books About Harlem!
From 2:00 p.m. to 4:00 p.m., guest readers will post up on all four sides of Marcus Garvey Park to read 30-minute excerpts from 16 different books.
Browse the read-aloud stations (think of your interstation strolls as mini, do-it-yourself Literacy Across Harlem Marches!) and stick around–socially distanced, of course–to hear a reading of your choice.
Please be sure to wear a mask and, as recommended by the Center for Disease Control, maintain a distance of at least six feet from non-household members.
Treat your ears and minds to some of the best "reads" Harlem has ever written!
2. Book Drive Benefiting Children and Teens in Harlem Shelters
Stop by Marcus Garvey Park's Richard Rodgers Amphitheater (Mount Morris Park West at West 122nd Street) anytime between 2:00 p.m. and 4:00 p.m. to drop off new or like-new books for children and/or teens in Harlem shelters.
As we head toward the holidays, which will undoubtedly be more difficult than usual for many Harlem families living in poverty, help us continue delivering joy, inspiration, and education–gifts that will keep giving in 2021 and far beyond.
Celebrating Champions of Reading + Cultural Excellence
Each year, Total Equity Now dedicates the Literacy Across Harlem March to Walter Dean Myers and Pura Belpré, two phenomenal reading-related leaders in our community's history.
Walter Dean Myers (1937-2014), the legendary children's book author who grew up in Harlem, made sure that Black and Brown children and teens saw themselves, their families, their communities, and their cultural and ethnic backgrounds reflected in literature.
Pura Belpré (1899-1982), trailblazing author, incomparable storyteller, and the New York Public Library's first Latina librarian, worked tirelessly and creatively to ensure that the shelves and programming of Harlem's library branches included and celebrated the rich tales and traditions of Black and Brown people.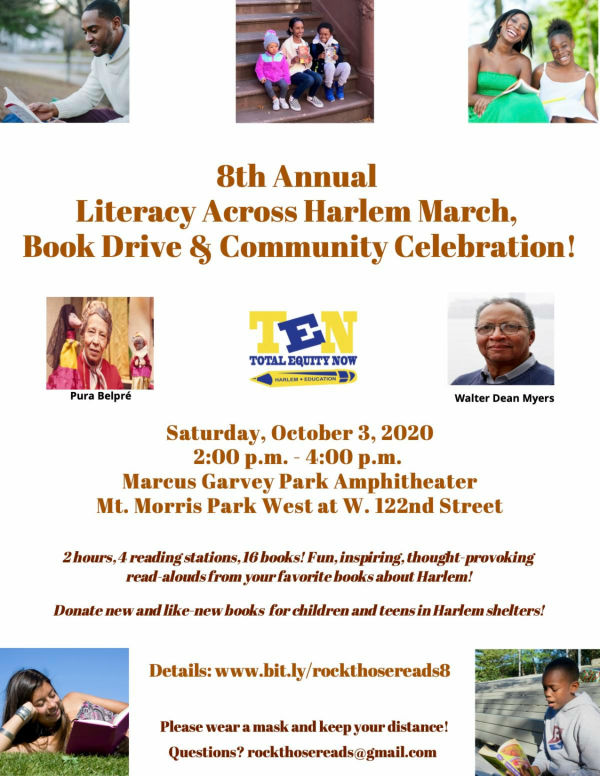 8th Annual Literacy Across Harlem March, Book Drive & Community Celebration on Saturday, October 3, 2020, 2 p.m. – 4 p.m., at Marcus Garvey Park Amphitheater, (Entrance: Mt. Morris Park West @ W. 122nd Street).
REGISTER: www.bit.ly/rockthosereads8
Find out more about Total Equity Now, here.
---