---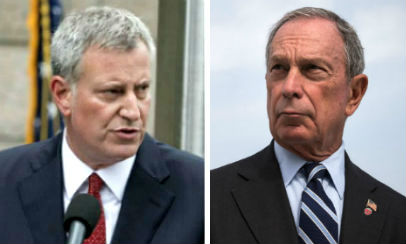 New Yorkers think a congresswoman who isn't even eligible for the White House would be a better president than Mayor Bill de Blasio, a new poll suggests reports Patch. Just 5 percent of Empire State voters picked the Democratic mayor when asked who among New York's political stars would make the best president, according to the Quinnipiac University poll released Wednesday.
That's the lowest share among the five names included in the poll. Even U.S. Rep. Ocasio-Cortez — who at 29 isn't even old enough to be president — did better, with 7 percent of voters saying she would be the best fit.
Former mayor Michael Bloomberg led the pack with 28 percent of voters saying he'd make the best president, followed by Gov. Andrew Cuomo with 17 percent and Sen. Kirsten Gillibrand with 11 percent.
Gillibrand is the only one of those figures to actually launch a 2020 presidential campaign. Bloomberg has expressed interest in the job and has reportedly said he will decide whether to run in about a month.
"While Democratic Sen. Kirsten Gillibrand sailed to re-election in November, New Yorkers aren't showing as much enthusiasm about her presidential bid in 2020," Quinnipiac polling analyst Mary Snow said in a news release. "Even though she has served in the Senate for a decade, roughly a quarter of New Yorkers say they don't know enough about her to form an opinion."
De Blasio has declined to rule out a presidential run, though he has said he is focused on his current job. But the poll shows he is unpopular on the statewide level — 44 percent of voters have an unfavorable view of him and just 32 percent hold a favorable view.
The mayor fared better in New York City, where 50 percent of voters said they hold a favorable view of him. But Bloomberg pulled a higher rate of 54 percent, the poll shows.
Quinnipiac surveyed 929 New York State voters from Jan. 16 to 21. The poll has a margin of error of 4.1 percentage points.
What do you think?
---