---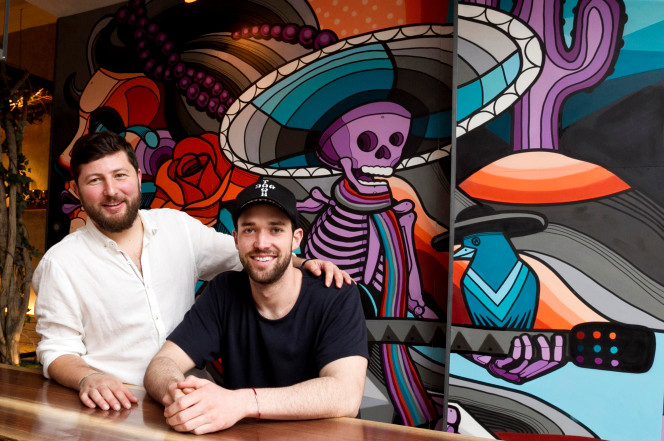 Oso, Hamilton Heights newest restaurant with an authentic taste of Mexico city street food is pleased to announce its new fall extended kitchen hours from 5pm to 12am, seven days a week and closing at 2am. Accompanying the highly anticipated launch of Oso back in June 2016 is a brand new brunch menu and their participation in the Harlem-Havana Festival continuing until  August 21.
Oso is owned and operated by Nodar Mosiashvili, Matthew Trebek (Alex's son) who along with executive chef Cassandra Rhoades reside in Hamilton Heights. The Mexico City inspired restaurant has quickly gained momentum since its soft opening with rustic decoration details such as exposed bricks, concrete floors and a graffiti mural. A carefully curated selection of hip-hop/jazz/soul music illuminates the space with an intimate and relaxed vibe. Nestled on the top of the hill near the Hamilton Grange Memorial, Oso draws inspiration from the community's landmark architecture, bold street style, and rich cultural history..
Located just across the street from the City College of New York, Oso attracts Hamilton Heights locals and student patriots with its south-of-the-border staples such as tamales, mole, chilaquiles, and traditional tacos, all served up in an open kitchen with a chef's table for four. The bar holds over 20 small estates of tequilas and mezcals, and incorporates native Mexican ingredients to coincide with the eclectic cocktail program that Matthew and Nodar created themselves. The full bar remains open with after-hour tacos and churros with its extended kitchen hours. The newly launched brunch menu includes signature dishes such as Huevos Con Chorizo, Watermelon Salad, and Torta Al Pastor, alongside brunch "cocteles" including choices of Rose Sangria, Guava Bellini, Bloody Maria, Mimosa and many more.
Along with Oso's recent launch, is their participation in the Harlem-Havana Music & Cultural Festival, a culture-packed exchange initiative of music, visual arts, dance, film, food and more, starting in Manhattan during Harlem Week. Oso will play Cuban-infused music, and will offer a special dish, Pollo a la Criola (braised chicken wings, pineapple criola and fried onion), and a special drink, Hibiscus Mojito (Brugal white rum, hibiscus, lime and mint), in the spirit of the culturally-diverse fiesta.
Drawing culinary inspiration from Mexico City, Oso serves up authentic street food with a contemporary flare. The calles de District Federal are reflected in the raw concrete, reclaimed wood finishes, and a floor to ceiling graffiti mural in the dining room. Hand crafted cocktails and flights of Mezcal or Tequila are served to round out the dining experience while a curated selection of hip-hop/ jazz/ soul music illuminate the room.
Oso, 1618 Amsterdam Avenue, New York, New York, www.OsoHarlem.com, (646) 858-3139
Photo credit: Nodar Mosiashvili and Matthew Trebek.
Related Articles
---