---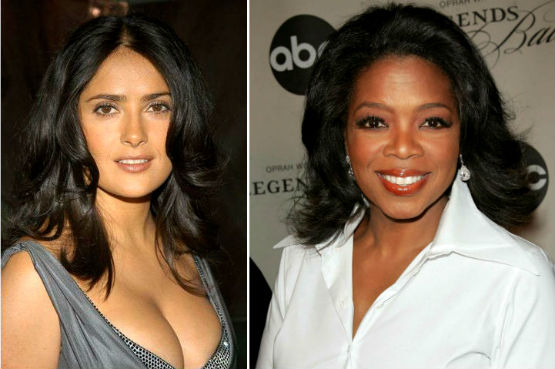 Hollywood Reporter reports that Salma Hayek Pinault attended a taping of Oprah's SuperSoul Conversations on Wednesday afternoon in New York City, ostensibly to discuss her activism this past year, especially in helping to catapult the #MeToo movement into the mainstream with other powerful women. But while talking to about why and how the movement began, the actress addressed the emotional drama behind her now-famous opinion piece in The New York Times titled "Harvey Weinstein Is My Monster Too."
"He told me he wanted to kill me," Hayek said of Weinstein and his behavior toward her during the production of the 2002 biopic Frida, in which Hayek starred, at the screening of Winfrey's podcast at the Apollo Theatre in Harlem. "He said to [Frida director] Julie Taymor, 'I am going to break the kneecaps of that "c word."'"
Hayek is one of the latest celebrities to step forward with a story about Weinstein's alleged unwanted advances, though she said she considered telling it earlier. The actress said that she initially declined an offer to write the piece when the Times first called months ago. Every time she went to pick up the pen to write the story, Hayek said, she would cry, and then subsequently would call the newspaper and cancel the piece.
"[The Times] contacted me to be a part of the first story and already by this contact, there was all this turmoil and I started crying when they asked and I ended up not doing it," she said. "And then I felt ashamed that I was a coward. I was supporting women for two decades, and then I was a coward."
Hayek also described why she felt her story wasn't important during the #MeToo movement at the time. "[Weinstein] had a lot of respect for me. I earned it with blood, but he did," Hayek said. "When the information about Harvey came out, I was ashamed I didn't say anything. But I felt like my pain was so small compared to all the other stories."
Hayek and Winfrey were joined by Trevor Noah, Stephen Colbert, Yara Shahidi and Lin-Manuel Miranda at the SuperSoul Conversations screening. The special Oprah at the Apollo will air Saturday, February 27, 2018, at 10 p.m. ET/PT on OWN and will also be available on the Oprah's SuperSoul Conversations podcast.
Related Articles
---