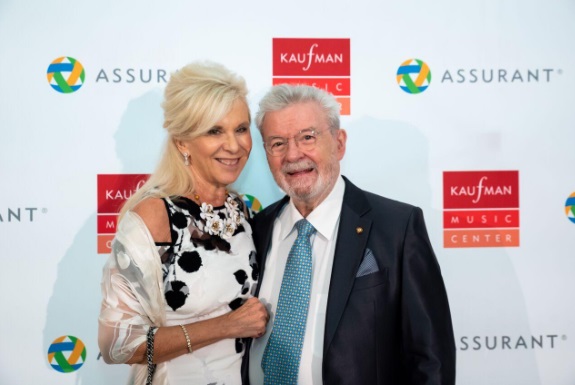 Kaufman Music Center's 2018 Gala honored the legacy of long-time Kaufman Music Center Executive Director Lydia Kontos and raised nearly $1 million in support of Kaufman's music education programs. The event took place on Monday, May 14, 2018, at Guastavino's in New York City.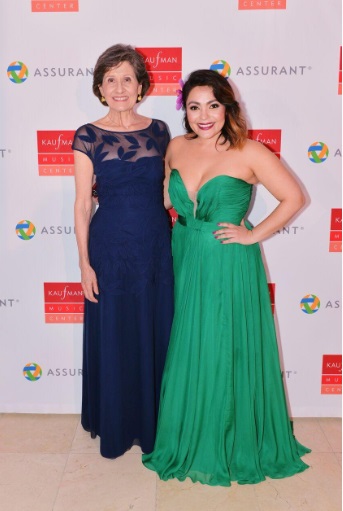 Kaufman Music Center's 2018 Lifetime Achievement Award was presented to Ms. Kontos, who will retire this fall after nearly 40 years at the Center's helm, in recognition of her distinguished career as a champion of music education and performance.
Read about Ms. Kontos's retirement here.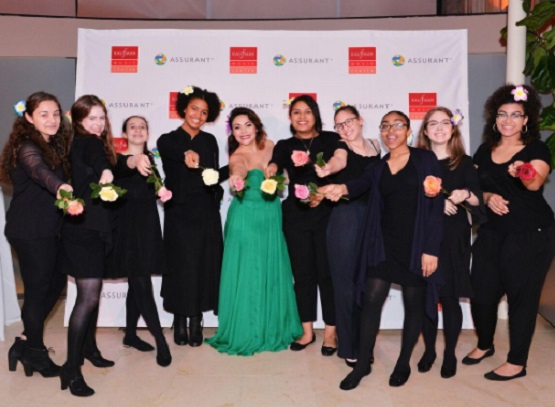 The Gala also featured stunning performances by flute legends Sir James Galway and Lady Jeanne Galway, opera superstar Ailyn Pérez, and young virtuosos from Kaufman Music Center's Special Music School (M. 859) and Lucy Moses School.
Gala guests had the opportunity to bid on unique and highly personal experiences, including: A private culinary experience with chef Jonathan Kava; luxurious getaways to Sanibel Island, FL and the Hudson Valley; and tickets to the Broadway shows "My Fair Lady" and "Frozen."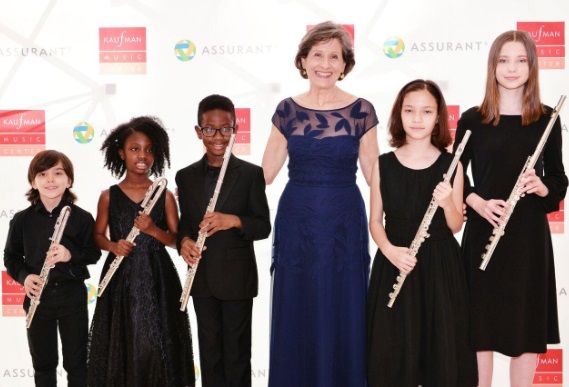 Gala Chairs Elaine and Henry Kaufman, Bethany and Robert B. Millard, Christina and Lawrence Wee and the Assurant Foundation and Gala Vice-Chairs are Rosalind Devon and Sanford L. Batkin and Cathy and John O'Rourke were joined by a veritable "Who's Who" of area and national business leaders, acclaimed actors and performers, and philanthropists including conductor David Robertson, MacArthur "Genius" and Artistic Director/Founder of the Young People's Chorus of New York CityFrancisco J. Núñez, pianist Orli Shaham, Man Made Music leader Joel Beckerman, Robert Millard (Chairman, MIT), Wendy Mosler (Global Holdings Management Group), Lawrence Wee (Paul, Weiss), Nina Kontos (Google), David Klafter (Pershing Square Capital Management), Mark Rambler (Credibility Capital), and Dick Beattie
Kaufman Music Center's annual Gala benefits the Center's Fund for Music Education, which helps thousands of children access high-level instruction in music, theater and dance. The Fund supports the extensive music curriculum at Kaufman's K-12 public school for musically gifted children (Special Music School), provides scholarships to underprivileged students at Manhattan's largest community arts school (Lucy Moses School) and creates opportunities for children in New York City's neediest schools to enjoy musical theater performances.
Special thanks to 2018 Lead Gala Sponsor Assurant.
Photo credit: 1) Flute legends Lady Jeanne Galway and Sir James Galway – Photo: John Johansen. 2)  Lydia Kontos and Ailyn Pérez. 3) Ailyn Pérez and Violetta. 4) Lydia Kontos and with flute students from Kaufman Music Center. Photo: Christos Katsiaouni
No related posts found...