This week, President Obama is welcoming some 50 African heads of state to Washington for the first-ever African Leaders Summit. The seeds of this summit were sown back in 2000 when Congress enacted the African Growth and Opportunity Act. AGOA called for the president to meet regularly with the leaders of sub-Saharan Africa. President Obama is the first to follow through on this guidance.

AGOA did much more than to facilitate high-level dialogue. The core objective of the legislation was to help Africa grow through trade. The belief at that time was that African countries could pull themselves out of poverty through "trade not aid," so the bill expanded Africa's duty-free access to our markets. And that objective has largely been achieved. Since its inception, African exports under the program have more than tripled, to almost $25 billion, as has per capita income in sub-Saharan Africa.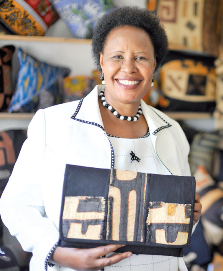 Abstract numbers don't tell the full story. Let me tell you about Marvelous Flotea. Flotea Massawe is a Tanzanian woman who had a knack for making handicrafts. She sold her goods on the streets of Dar es Salaam but had no access to distribution channels. USAID provided technical assistance in design and marketing and sponsored her in trade shows in the United States. She met U.S. buyers and developed her own website.

Her business boomed, so much so that the U.S. African Development Foundation gave her a grant that allowed her to enlarge her factory. Flotea now employs nearly 200 women, making Marvelous Flotea textile products that are sold at Macy's.
The success stories extend beyond textiles and apparel to more sophisticated products. Take South African cars. South Africa now exports motor vehicles and parts to the United States under AGOA. In 2013 alone, those goods totaled $2.2 billion.

But AGOA doesn't just help Africans — it helps Americans. In the shorter term, it does that by reducing costs on inputs from Africa that are used by our manufacturers. In the longer term, it helps build a middle class in Africa that then purchases our exports.

There is bipartisan interest in renewing AGOA, which expires next September. On Friday, the House unanimously passed a resolution that welcomed African leaders to the summit, supported studying changes to improve AGOA, and recognized the importance of renewing the program expeditiously. On Monday, key members from the committees of jurisdiction in the House and the Senate issued a joint statement in support of renewing and strengthening AGOA.
The desire to improve AGOA is based on our recognition of the fact that African countries remain too dependent on exploiting natural resources. Today, some 82 percent of AGOA imports is crude petroleum. We need to see if AGOA can do more to help Africans diversify and develop industries that have added value, creating the jobs that promote the development of a middle class.

We also should consider whether changes to eligibility criteria might also help further raise standards of living and promote the rule of law in Africa. Countries are only eligible for preferences under the program if the president determines that they are making progress toward establishing and maintaining the rule of law and respect for human rights, including labor rights. But more progress is needed in those areas.
And there are other obstacles to African trade growth: inadequate roads and ports, bureaucracy and corruption, to name a few. In an era of "just in time delivery," companies want to know how long it's going to take their goods to get from point A to point B. Because of unreliable infrastructure and bureaucracy at the border, businesses don't have that kind of certainty in sub-Saharan Africa. The fact that so many countries on the continent are landlocked compounds the problem. Although Africans have work to do on this score, we in the developed world can help with financial and technical assistance.

With more than a decade of experience under our belts, we can safely conclude that "trade not aid" isn't enough. Trade won't happen without the underlying capacity building that allows Africans to take advantage of the preferences we're providing. Marvelous Flotea shows us why.
---
---
It also shows us how trade can promote economic progress for the underprivileged: A Tanzanian woman selling textiles on the streets of Dar es Salaam, with a bit of help, can build a factory and employ 200 other women. That is the kind of entrepreneurial spirit that made our nation great, and it is the kind of spirit that will finally allow Africa to unleash the economic potential that will lift it from poverty.
As we welcome Africa's leaders to the United States and work with them to improve upon the already successful AGOA program, we should recall the words of President Franklin Delano Roosevelt at his second inauguration: "The test of our progress is not whether we add more to the abundance of those who have much; it is whether we provide enough for those who have too little." Those words, at that time, were focused on the millions in our own nation who had too little. In today's globalized world, they also apply to our friends in Africa and around the world.

Rangel is the Ranking Member of the Ways and Means Trade Subcommittee
Related Articles
VIDEO
---
Harlem Cultural Archives is a donor and foundation-supported Historical Society, Its mission is to create, maintain and grow a remotely accessible, online, interactive repository of audio-visual materials documenting Harlem's remarkable and varied multicultural legacies, including its storied past as well as its continuing contributions to the City and State of New York, the nation, and the world.
Support Harlem Cultural Archives
and
click here to get more Harlem History
, Thank you.