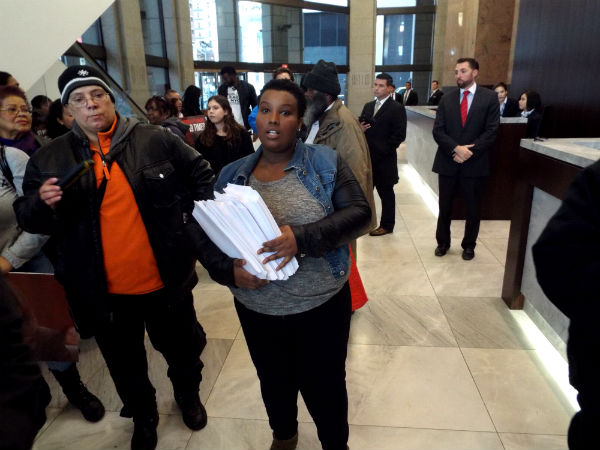 By Bertha Lewis
As alluded to in a recent DailyNews editorial there is, indeed, a wind blowing against New York's charter school movement.
But this wind is specifically blowing against Eva Moskowitz' Success Academies – a brand of New York's charter movement, which uses a discriminatory student recruiting system to weed out "problem" kids and raise overall test scores.
Given the lamentable commentary by the DailyNews editorial let me make clear: A) Our growing coalition has for years called for scrutiny against Success Academies' discriminatory student selection practices. B) We are not against the growth of the charter school movement because we believe these schools are a part of the solution to the overcrowding in classrooms.
It is incredulous to suggest that NAACP's Hazel Dukes or myself are receiving monies from the Teachers Union, or anybody else for that matter, to finance our activities highlighting Success Academies' abuse of suspensions.  We are life-long activists and our service records speak for us. This kind of accusation is all the more laughable as one considers the very public millions of dollars being invested in charters like Success Academies by billionaire hedge funders, who see privatization of public school education as a gigantic honeypot waiting to be milked.
Success Academies' predatory education model is a simple one.  A rigorous applications process and a lottery system form the first hurdles that parents must overcome in getting their children into the school. This practice while seemingly fair is inherently selective and favors parents with the resources to get their children through the applications regime through to the lottery. Students whose first language is not English are disadvantaged as applications are usually available only in English.
For many parents the ordeal has just begun even after gaining admission into a Success Academies school for their youngsters. Karen Sprowal, a parent of a student formerly enrolled at Success Academies has described her shock at learning that her son was suspended on his first day, and frequently afterwards for being a difficult kid. Karen was so disillusioned with her son's experience that she eventually gave in and removed her son from the school.
Fatima Geidy, another parent of a child formerly enrolled in a Success Academies school, ultimately, withdrew her frequently suspended son from the school after he was sent to a psych ward. That was the last straw for Fatima whose experience drove her to join TBI's coalition highlighting Success Academies' suspensions policy. On Thursday both Fatima and Karen led our coalition in delivering a 34,000- strong colorofchange.org petition to US Secretary of Education Arne Duncan, which demanded a probe into Success Academies' abusive suspension policies.
In October, a PBS NewsHour report by veteran Journalist John Merrow investigated the use of suspensions at Success Academies. In the widely watched segment Eva Moskowitz became speechless when asked to explain why the school's disciplinary handbook listed answering a question out of turn as potential grounds for suspension.
Another dimension of Success Academies' predatory education/sub-prime schools model manifests in where and how Moskowitz chooses to situate a new charter. The preferred method is to co-locate within an existing public school- which charter schools are guaranteed in New York City, where space exists. This situation inevitably positions parents of the co-locating charter school against parents of the accommodating public school because of the real risks of eventual overcrowding.
Our coalition's action at the US Department of Education on Thursday should demonstrate to all that we are serious about addressing the discriminatory suspension policies being employed by some charter schools. If you know us well then you know we will not stop until we are heard.
Over 35,000 Americans are sufficiently educated on Success Academies' sinister student recruitment practices and have taken a stand on our petition. It is incumbent upon every one else, especially the media, to learn what is at stake in the education of our youngsters. The future of public school education in New York City and all of America is what is at stake.
---
---
Editor's note: Eva Moskowitz' Success Academies was not open for comment before the posting time of this piece.
Photcredit: Fatima Geidy, the parent of a child formerly enrolled in Success Academies and who personally handed the 34,000 strong petition to a representative of the DOE yesterday morning.
Related Articles
---