---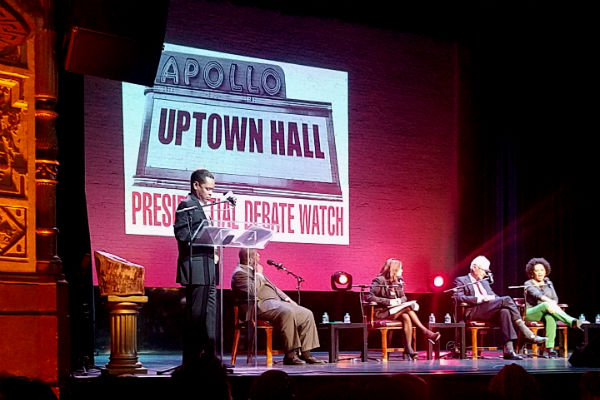 By Eartha Watts-Hicks
Walking into the Apollo Theater, Monday evening, September 26th, I saw the crowd of viewers waiting outside, swelling with anticipation.We knew this, being the first of three Presidential Debates between Hilarry Rodem Clinton and Donald Trump, was going to be something else. This debate was slated to be one of the most memorable presidential debates ever witnessed. It felt as if this was being built up as the Heavy Weight Boxing title fight of the century.
Me personally, I had an idea going in that Hillary Clinton was going to be well prepared and that the Donald was going to duck and dodge questions about his tax returns and the birth-er issue. But seeing this play out, in action and on the big screen, I was in utter disbelief. I was shocked and appalled at the display and that a whole entire party (of I'm assuming smart people) found this man to be a credible, qualified contender for the presidency.
"Trumped-up Economics" and "I'd like to quote Mrs. Michelle Obama…."
Hillary was spot on with keen responses, rooted in data, and punctuated by a few low-blow punchlines, i.e. "Trumped-up Economics" and "I'd like to quote Mrs. Michelle Obama…." She also urges voters to refer to the Fact Checker on her website, having already anticipated being faced with barrage of inconsistencies, inaccuracies, and untruths. She slammed Trump in her assertion that he would be disastrous at diplomacy. And the expressions on her face alone were…priceless.
Trump tap danced around key issues or ascribed his really smart friends and their random conversation from over a decade ago, as a reference for his argument. And, in like fashion, urges everyone to go ask them.
The Apollo Theater had its own a panel of really smart people. Rob Nelson, Channel 7 Eyewitness News anchor, led the Q&A segment. It was moderated by Keli Goff of WNYC and WQXR. Also on the panel were Derek T. Dingle, Amy M. Holmes, Scott McConnell, and Mariela Salgado. Together, they called it like they saw it and were met by some brilliant questions from Apollo fans. Liza of the Bronx, asked the panel, "What would a Trump White House do to race relations in this country?"
This debate, itself, felt like a spoof on Saturday Night Live. The Jock vs. the Scholar. And while the heckling Apollo Theater audience can often be more exciting than the show, we roared in applause for Hillary, when participating in our own audience poll. And then, we lauded the bravery of the lone soul, clapping for Trump.
The Jock and the Scholar. Scholar woman won this match with specifics. The only thing missing was a victory dance and Hillary waving a toupee as a trophy. I thank Future Executives, Incorporated for the invitation.
Future Executives, Inc. (FE) is a non profit organization that provides services for children and young adults. These services include but are not limited to workshops, tutoring, internships, career training and exploration within varied fields of interest. For more information, visit www.futureexecutives.org.
This is an opinion piece. Eartha Watts Hicks is editor in chief of Harlem World Magazine @hwmag, award-winning author of Love Changes, and founder of Earthatone Enterprises, LLC. She is also a member of the acclaimed Harlem Writers Guild. For more information, visit www.earthatone.com or connect across social media @Earthatone.
Related Articles
---