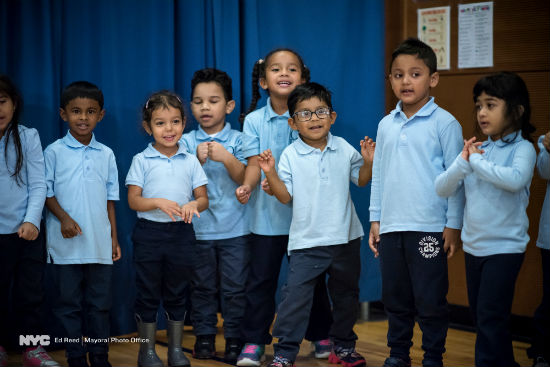 By Josh Wallack, Deputy Schools Chancellor
When it comes to a child's education, starting early makes a huge difference. New York City parents can make sure their four-year-old gets a strong start in school and life by signing up for free, full-day, high-quality Pre-K for All by March 30, 2018.
Pre-K is the time when children build social skills, develop early reading and writing skills, learn hundreds of new words, and practice critical thinking. The research is clear – pre-K gets children ready for kindergarten and puts them on the path to success throughout their time in school.
In New York City's safe and supportive pre-K classrooms, children participate in engaging activities and interact with other children and teachers. Pre-K helps kids learn to play together, share and take turns, and put their thoughts into words. They develop coordination by building, pretending, drawing and running around. They become familiar with concepts like letters, numbers, shapes, colors, and foods.
Children love their pre-K programs, and so do their families: 92 percent of surveyed families said their program is excellent or good. Pre-K allows parents to go to work knowing their children are in a safe, positive learning environment, while saving thousands of dollars – an average of $10,000 a year – they would have spent on child care.
Pre-K can also be a time for children to learn different languages, at a time when their brains are growing and they are really like sponges – easily absorbing new words and information. In Dual Language pre-K classrooms, students receive instruction in English and a second language, a huge advantage as they go into kindergarten and beyond. It has always been valuable for students to become fluent in two or more languages and cultures – and it has only become more important in the 21st century. New York City will offer more than 60 dual-language pre-K programs in all five boroughs this year, in Spanish, Bengali, Chinese, Russian, and Italian.
All New York City families with children born in 2014 can apply online by March 30 at nyc.gov/prek, over the phone by calling 311, or in person at a Family Welcome Center. The online application is available in ten languages, and families can submit an application over the phone or in person in over 200 languages.
Pre-K programs are available in schools and at community-based early education centers, and parents can list up to 12 programs on their application. To explore program options, check out the Pre-K Finder (https://maps.nyc.gov/prek) and the Pre-K Quality Snapshots (http://schools.nyc.gov/Academics/EarlyChildhood/parentfamilies/default.htm). Parents can also visit programs in person to ask questions and meet with teachers. These tools can help you make the best decision for your family.
There is a free, full-day, high-quality pre-K program for every four-year-old in New York City – apply by March 30, 2018, to start your child on the path to success!
No related posts found...