---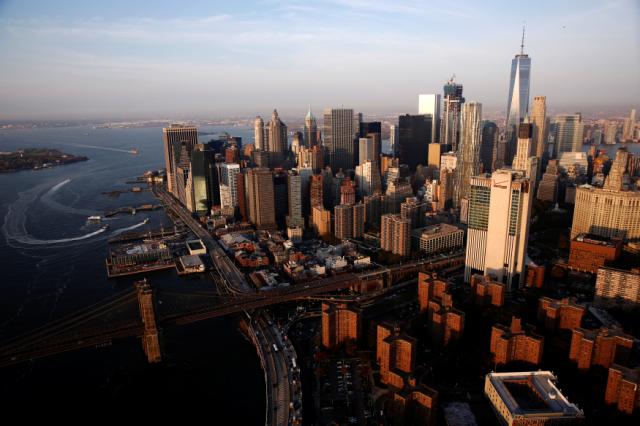 Dear Honorable Leader Stewart-Cousins and Honorable Speaker Heastie:
As a coalition of faith leaders and clergy members across New York City, we are writing regarding proposed legislation that would expand prevailing wage mandates to include many more large construction projects in New York. We strongly urge you to halt this legislation given our serious concerns that it will take good jobs and contracting opportunities away from locally based workers of color and minority-owned businesses in the construction industry.
The Legislature has not even begun to address a crucial question: Who will benefit?
It is clear that the legislation to expand prevailing wage would also create a de facto union mandate on many large construction projects in New York. This is deeply problematic because if developers are essentially required to build union on these projects, thousands of locally based, non-unionized workers of color in our communities will lose jobs and be shut out of job opportunities.
As you may know, the open shop, or non-union, sector of the industry has become a crucial source of opportunities for New Yorkers of color. Industry surveys show that approximately three-quarters of all open shop construction workers in New York City are Black or Hispanic and actually live in the five boroughs of our city.
Of course, if 100 percent of New York City construction workers were a part of a building trade union, then the prevailing wage legislation would be a win for everyone. But that is not the case. And right now, we still do not actually know the details on workforce diversity in the building trade unions, since union leaders have consistently refused to release actual data on the number of Black and Hispanic workers in their ranks who are receiving steady, full-time work. Part of the work of The 400 Foundation includes advocating for greater transparency on this front. We are also advocating for the estimated 75,000 minorities and women who are a part of the open shop labor force to be able to maintain their current employment, gain opportunities to join the building trade unions and receive needed advanced skilled training to earn higher wages.
Similar issues exist regarding MWBE contractors in the construction industry, who are already locked out of competing for contracts on many large projects due to unnecessary costs and other barriers to entry. A costly prevailing wage expansion will make that problem even worse.
This is why we ask: Who will benefit? It is clear that the current proposed legislation would take jobs and opportunities away from locally based workers and business owners of color, while disproportionately benefiting a workforce that is more likely to be white and live outside New York City. We do not see this as a progressive step forward for communities of color – and we sincerely hope you will consider our position and halt this bill.
Sincerely,
The 400 Foundation
Organizers:
Rev. Reginald Lee Bachus, President
Rev. Clinton Miller, Brown Memorial Baptist Church (Brooklyn)
Rev. Dr. Khali C. Mootoo, Emmanuel AME Church (Manhattan)
Senior Pastors:
Rev. Dr. Calvin O. Butts, III, Abyssinian Baptist Church (Manhattan)
Rev. Dr. Johnny Ray Youngblood, Mt. Pisgah Baptist Church (Brooklyn)
Rev. Dr. Calvin O. Rice, New Jerusalem Worship Center (Queens)
Rev. Dr. Que English, Bronx Christ Fellowship (Bronx)
Rev. Dr. Carl L. Washington, New Mount Zion Baptist Church (Manhattan)
Rev. Dr. Gary Simpson, Concord Baptist Church (Brooklyn)
Rev. Dr. Anthony Trufant, Emmanuel Baptist Church (Brooklyn)
Rev. Dr. Jessie Williams, Convent Avenue Baptist Church (Manhattan)
Rev. Dr. Robert Waterman, Antioch Baptist Church (Brooklyn)
Rev. Dr. David K. Brawley, St. Paul Community Baptist Church (Brooklyn)
Rev. Dr. Gilbert Pickett, Mt. Horeb Baptist Church (Queens)
Rev. Geraldine Harris, Greater File Baptist Church (Manhattan)
Rev. Dr. Johnnie Green, Mount Nebo Baptist Church (Manhattan)
Rev. Dr. Adolphus Lacy, Bethany Baptist Church (Brooklyn)
Rev. Dr. Lawrence E. Aker, III, Cornerstone Baptist Church (Brooklyn)
Rev. Dr. Clive E. Neil, Bedford Central Presbyterian Church (Brooklyn)
Rev. Shaun J. Lee, Mount Lebanon Baptist Church (Brooklyn)
Rev. Nicole Pena, God's Promises Baptist Church (Manhattan)
Rev. Steven Eugene Carter, Mount Ararat Baptist Church (Brooklyn)
Bishop Albert Jamison, Pleasant Grove Baptist Tabernacle (Brooklyn)
Bishop Eric C. Figueroa, Sr., New Life Tabernacle (Brooklyn)
Bishop Charles Eatman, Mount Pleasant Baptist Church (Manhattan)
Rev. James Kilgore, Friendship Baptist Church (Manhattan)
Rev. Daryl Bloodsaw, First Baptist Church (Brooklyn)
Rev. Deborah Crow, Pilgrim Church (Brooklyn)
Rev. Dr. Isaac Graham, Macedonia Baptist Church (Manhattan)
Rev. James Duckett, Fort Mott Baptist Church (Bronx)
Rev. Dr. J.D. Williams, St. Johns Baptist Church (Queens)
Rev. Keith Roberson, Southern Baptist Church (Manhattan)
Rev. Dr. Larry Camp, Bethlehem Baptist Church (Brooklyn)
Rev. Phil Craig, Greater Springfield Community Church (Queens)
Rev. Dr. Renee Gardner-Washington, Memorial Baptist Church (Manhattan)
Rev. Rodney McFarland, Mount Ollie Baptist Church (Brooklyn)
Rev. James Booker, Bethel AME Church (Queens)
Rev. Ruben Thompson, Morning Star Full Gospel Assembly (Bronx)
Apostle Luis Bilgen, Salvation and Deliverance (Bronx)
Rev. Dr. Torrence Robinson, Gethsemane Baptist Church (Bronx)
Rev. Dr. Michael Strong, Christian Pentecostal Church (Bronx)
Rev. Joseph J. Jones, Mt. Hermon Baptist Church (Bronx)
Rev. Dr. Jesse Voyd Bottoms, Beulah Baptist Church (Poughkeepsie)
Rev. Troy P. DeCohen, Mount Vernon Heights Congregational Church (Mount Vernon)
Rev. Dr. Sedgwick Easley, Union Baptist Church (Long Island)
Rev. Dr. Vernon Schelton, Holy Trinity Baptist Church (Long Island)
Rev. Robert Young, Mount Olivet Baptist Church (Peekskill)
Pastor Milton Vann, Jefferson Temple (Long Island)
Pastor Damon Mack, L.I.V.E. Church (Mount Vernon)
Rev. Charles Daniel, Mc. Calvary Baptist Church (Albany)
Rev. Timothy P. Taylor, Sr., Hebron Baptist Church (Brooklyn)
Rev. Dr. Herman Washington, Shiloh Baptist Church (Rockville Centre)
Rev. Norman Scott, Rising Star Baptist Church
Rev. Kevin B. Williams, People's Baptist Church (Brooklyn)
Rev. Keith D. Mobley, Mt. Olive Missionary Baptist Church (Lackawanna)
Rev. Craig Majett, New View Baptist Church (Manhattan)
Clergy
Min. Kirsten Foy, Arc of Justice
Rev. Adam Durso, Lead NYC
Rev. Dr. Gail Badger, New Mount Zion Baptist Church (Manhattan)
Bishop Vivian L. Donaldson (Brooklyn)
Rev. Joel Youngblood, Mt. Pisgah Baptist Church (Brooklyn)
Min. Joseph Holland, Bethal Gospel Assembly (Manhattan)
Rev. Lindsey Williams, St. Johns Baptist Church (Queens)
Min. Stephen Marshall, National Action Network
Rev. C. Thomas Gambrell, Grip Ministry (Manhattan)
Rev. Curtis L Brewington, Sr., Crystal Key Ministries
New York State Senate Majority Leader Andrea Stewart-Cousins, 188 State Street, Room 907, Albany, NY 12247
New York State Assembly Speaker Carl Heastie, LOB 932, Albany, NY 12248
---