---
St. John the Divine's plan to raise $2 million per year by allowing a developer to build two towers along its northern edge has riled up neighbors and preservationists who say that blocking part of the century-old Harlem church's neo-Gothic facade, punctuated with stained glass and buttresses, is practically a sin. Enter Times archicritic Michael Kimmelman, who proposes a compromise.
Instead of the two towers that the Brodsky Organization is planning to build in conjunction with Handel Architects—on a long site that spans the south side of 113th Street between Amsterdam Avenue and Morningside Drive—they should consider building just one, and intentionally place it in front of the part of the church, its transept, that was unfinished and is closed anyway because of a fire more than 10 years ago.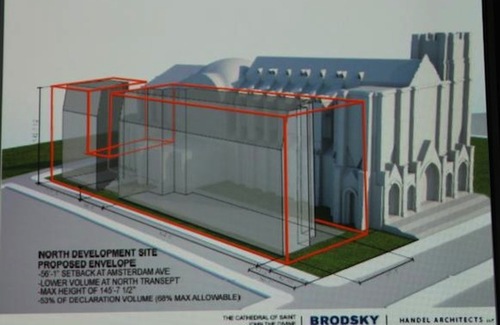 To fit all 428 rental apartments Brodsky and Handel have planned, that one tower would have to be 35 stories, Kimmelman says, rather than the two 15-story structures currently planned that would block more of the church from view. Building something of that height, though, would require going through the city's long, arduous, expensive public review process, and also it would make the neighbors mad. (Madder than they already are? Debatable.)
Kimmelman himself admits it's sort of a pie-in-the-sky, "Hail Mary pass" type of idea, but maybe there's an infinitesimal chance the financially needy church, developer and architect will heed his plea. Even though construction has already started on the foundation. So a very infinitesimal chance.
---