---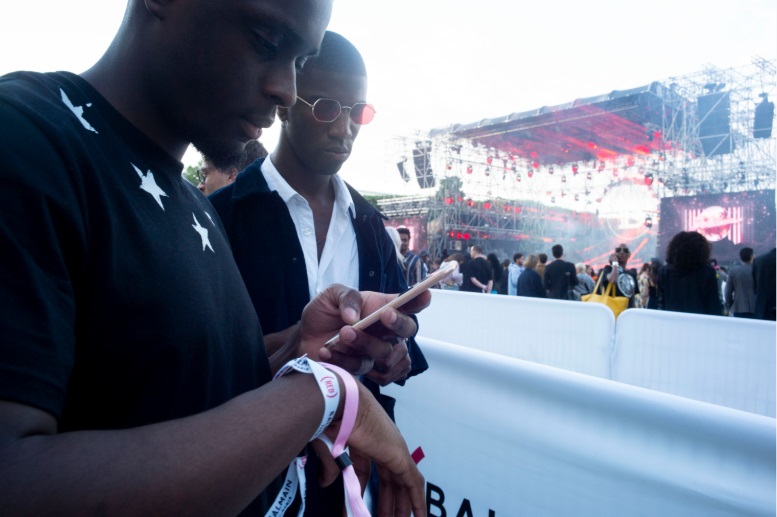 Highlighting once again the inseparable intertwining of music with Olivier Rousteing's singular style, Balmain's presentation of its Men's Spring 2020 Collection formed part of la Fête de la Musique, Paris' annual all-night celebration of music.
Reflecting Rousteing's desire to democratize and modernize fashion, the June 21st outdoor presentation was open to as many members of the Balmain Army as possible, with over 2,000 attendees expected to celebrate the longest day of the year at a special festival site set up inside the French capital's historic, 400-year-old Jardin des Plantes. Rousteing's designs will be an integral element of this unique music celebration, with the Men's runway offerings seamlessly mixing with festival contributions from a host of musical talents pulled together by Olivier Rousteing.
All invitees were asked to join Rousteing, Balmain and the music artists in supporting (RED). Their donations, as well as profits from sales of limited-edition Balmain festival merchandise and food and drink offerings, were dedicated to supporting (RED)'s efforts to end HIV/AIDS.
Other partners helping to make possible this unique fashion-music festival event are Diamond Foundry, Puma, Balmain, Paris Hair Couture, L'Oreal, Alterfood, Au Top, Bagnard, Cyril Lignac, Hxouse, Le Bar, Stohrer and Urban Act.
"As my team and I planned for today's concert-runway, we aimed to keep it simple, concentrating on one clear message: our belief in the possibility of a more inclusive, joyful future for fashion.
Obviously, we all know that fashion still has a lot of work to do on many fronts, including moving past its long failure to celebrate all members of our society. Yes, presentations have become slightly more diverse in recent seasons—but, while campaigns and runways might have been able to begin the shift towards what our world actually looks like, there seems to be little inclination to democratize other areas of our industry. For example, attendance at shows continues to be restricted to the same lucky few, season after season. With doors closed and filters imposed, only a small number of those who dream about fashion and design are actually given the chance to participate.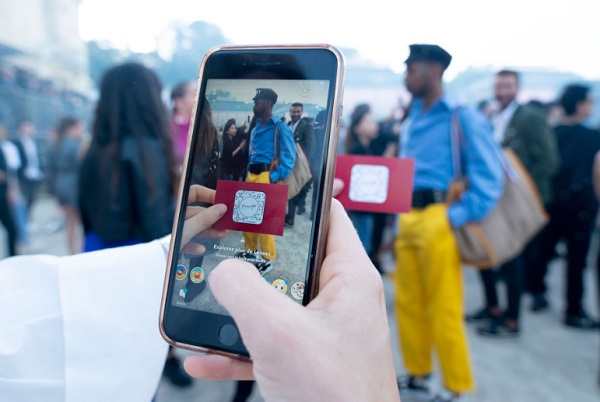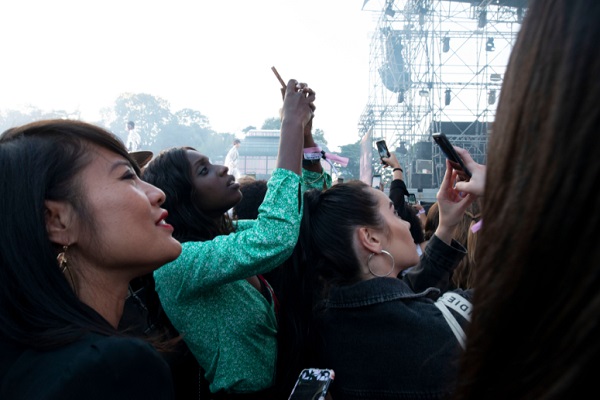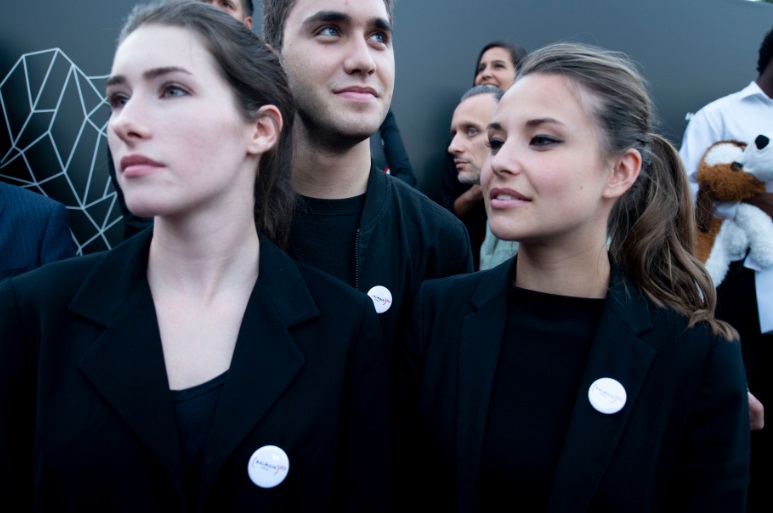 It often seems to me that the fashion world is a bit confused about some very basic definitions, redefining "luxury" as hyper-exclusive and "aspirational" as restricted to a tiny elite—but I believe that fashion's dreams should never be limited to just one small group. Fashion needs to be both inclusive and aspirational. My team and I are hoping that by sending invitations to thousands who would otherwise not be able to view a Paris fashion show, we can help start a needed conversation about modifying traditions and exploring new ways of opening up runways. Changes could be inspired in part by social media's communication model, which has allowed fashion houses to directly engage with a new generation of design lovers. I'm convinced that the payoff of welcoming and incorporating a new youthful energy and fresh ideas into our collection and presentations would be enormous.
With an optimistic outlook like that, it's perhaps no surprise that much of today's offering looks to the early '80s for inspiration. For that era was marked by more than just the Easter-egg pastels, soft denims, graphic monochromatic patterns, and American-Gigolo tailoring that you see channeled into today's looks—there was also an intoxicating, invigorating feeling of new possibilities in the air, as music, design and fashion merged into fresh methods of telling stories, relying on new types of platforms to break barriers, imagine a better future and communicate in surprising novel ways.
Today, I feel a bit of the same energy and optimism repeating itself, as we begin to push back for needed changes at the same time that a host of new entertainment platforms—from Apple TV, Netflix, Amazon—also offer new possibilities, while streaming countless series, many focusing on better, more inclusive futures. The Balmain atelier has helped me look to this optimistic future by referencing and building our incredible past. Our craftsmen have relied on classic skills and techniques to create some impressive pieces that do not aim to duplicate past glories, but instead prepare for future excitement."
"We are so grateful to Olivier and everyone at Balmain for lending their talent and unrivalled creativity to (RED)'s fight to end AIDS. This incredible event will harness the energy of fashion and music fans to not only raise money, but also bring real heat and awareness to a disease that remains a crisis today. This unique celebration comes in a truly critical year, as France prepares to host the sixth Global Fund Replenishment in October," said Jennifer Lotito, COO, (RED).
Statement from Diamond Foundry, main sponsor for this event
"We are thrilled to partner with Balmain and to continue our support of (RED) and their incredible mission. There is a perfect synergy in our shared vision and values with the creative team at Balmain. As a global fashion leader, Olivier is constantly innovating and pushing the boundaries of design, and we are excited for our upcoming collaborations," said Mona Sadat Akhavi, VP of Marketing, Diamond Foundry
"We are thrilled to be supporting the Balmain Fashion Show event in Paris," said Adam Petrick, Global Director of Brand and Marketing at PUMA. "Given the work Cara Delevingne is doing with Balmain and the fact that she is one of PUMA's most trusted global partners, it felt like a perfect fit. Balmain is a leader in the fashion space and we are inspired by the impact they are having on culture. We're excited to share more soon about upcoming projects with the fashion house."
(RED) was founded in 2006 to engage businesses and people in the fight against AIDS. (RED) partners with the world's most iconic brands that contribute proceeds from (RED)-branded goods and services to the Global Fund. To date, (RED) has generated more than $600 million for the Global Fund to fight AIDS, Tuberculosis and Malaria, to support HIV/AIDS grants in Ghana, Kenya, Lesotho, Rwanda, South Africa, Swaziland, Tanzania and Zambia. 100 percent of that money goes to work on the ground – no overhead is taken. Global Fund grants that (RED) supports have impacted over 140 million people with prevention, treatment, counseling, HIV testing and care services.
At Diamond Foundry, we are reimagining the industry by operating a responsible, honest and transparent business. As America's leading producers of lab-grown diamonds, we create real diamonds aboveground in our San Francisco foundry with our proprietary solar technology. Utilizing renewable energy, we are the world's first certified carbon neutral diamond producer. Only 1% of the world's diamonds meet our unparalleled quality and craftmanship standards. We collaborate with jewelry brands to create designs that empower and inspire. Real. Unique. World Positive. For more information, visit DiamondFoundry.com
PUMA is one of the world's leading Sports Brands, designing, developing, selling and marketing footwear apparel and accessories. For 70 years, PUMA has established a history of making fast product designs for the fastest athletes on the planet. PUMA offers performance and sports-inspired lifestyle products in categories such as Football, Running and Training, Basketball, Golf and Motorsports. It engages in exciting collaborations with renowned design brands to bring innovative and fast designs to the sports world. The PUMA Group owns the brands PUMA, Cobra Golf and Dobotex. The company distributes its products in more than 120 countries employs more than 13,000 people worldwide, and is headquartered in Herzogenaurach/Germany.
---