---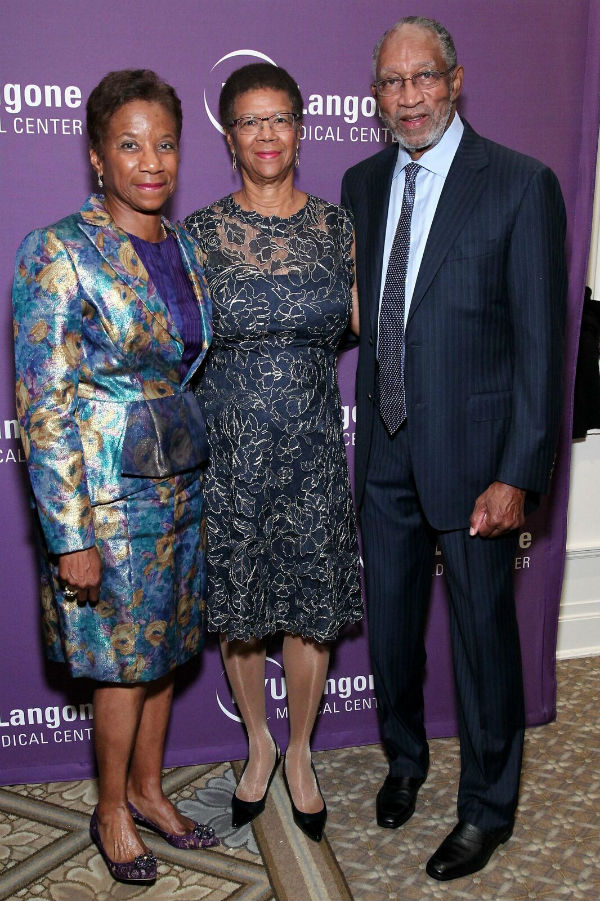 Over $1.5 million was raised and nearly 400 guests attended NYU Langone Medical Center's annual Perlmutter Cancer Center Gala last night, raising funds for a variety of activities to benefit patients and their families, to advance promising research, and support training of the next generation of oncology experts.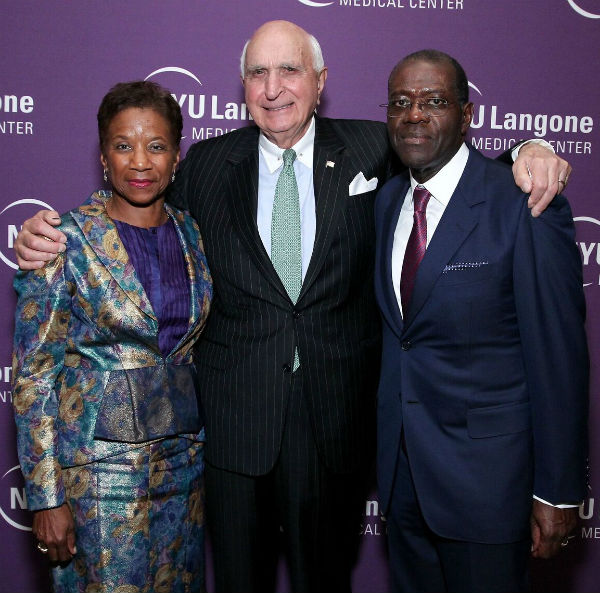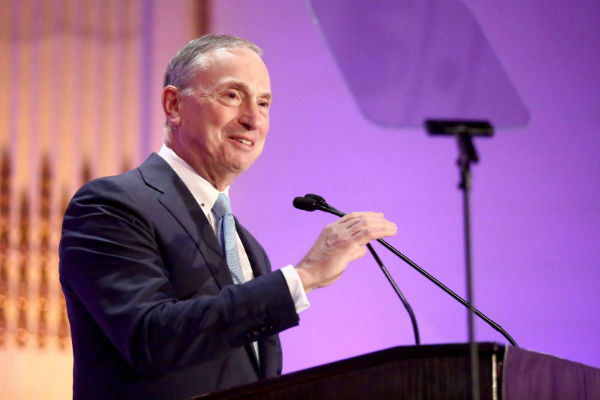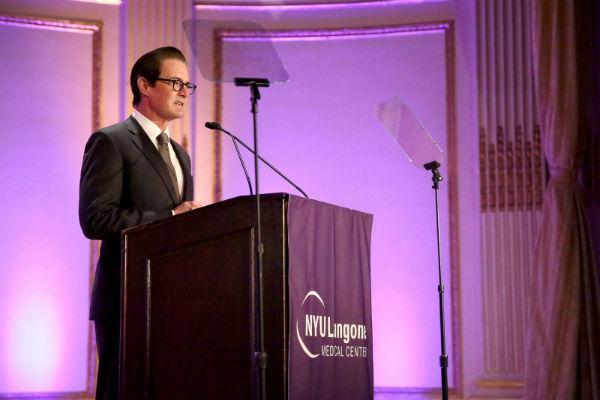 Held at The Plaza Hotel in Manhattan on October 19, 2016 the event honored three individuals for their dedication to the fight against cancer: Beatrice W. Welters, a member of the Laura and Isaac Perlmutter Cancer Center Board; her husband, Anthony Welters, a member of the NYU Langone Board of Trustees; and Mark B. Pochapin, MD, the Sholtz/Leeds Professor of Gastroenterology, Department of Medicine at NYU Langone.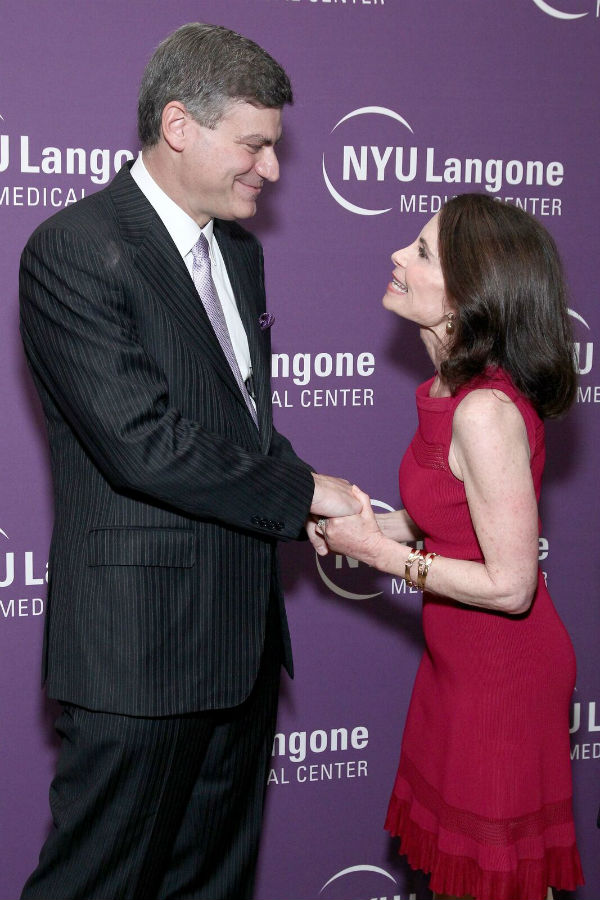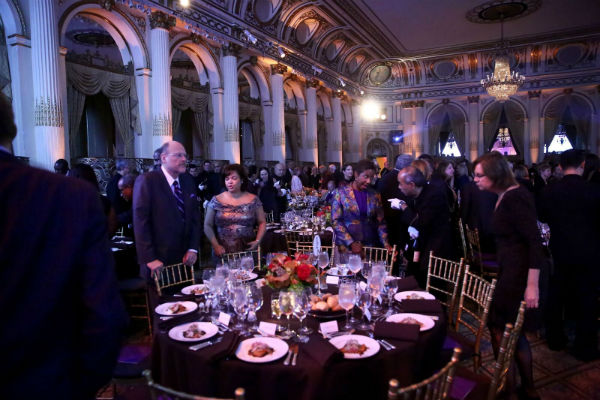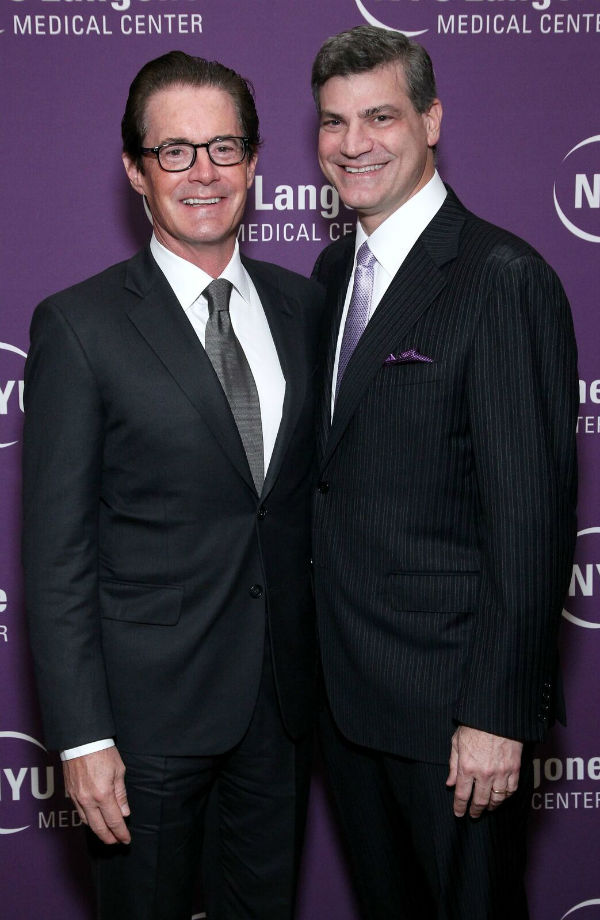 The evening was emceed by actor Kyle MacLachlan, best known for his performance as FBI Special Agent Dale Cooper in David Lynch's series Twin Peaks, for which he received two Emmy nominations and a Golden Globe Award. MacLachlan believes it is important to enhance awareness about cancer screening as a means of prevention, and said, "It's great to be here tonight, with so many individuals who tackle cancer head-on every day. Thank you, to each of you here, for the important work that you're doing to help diagnose and treat individuals who are affected by this rampant disease."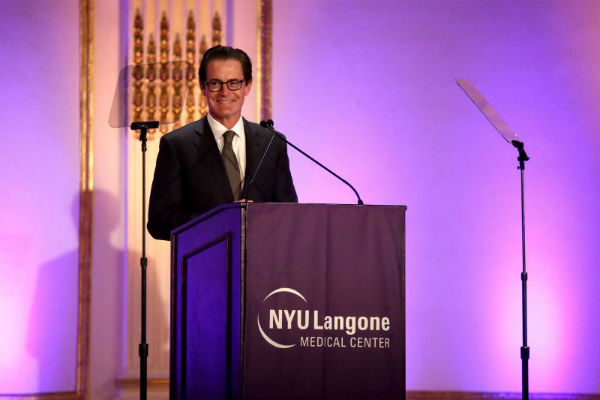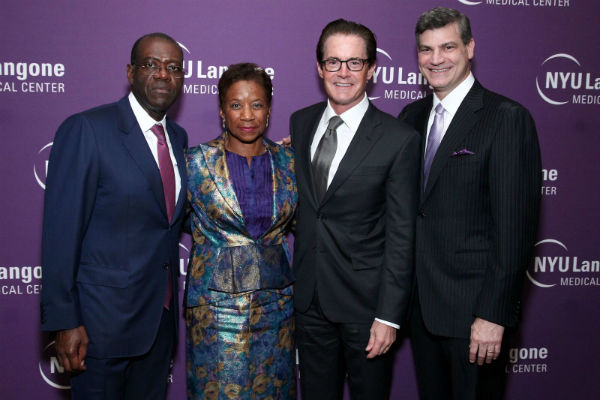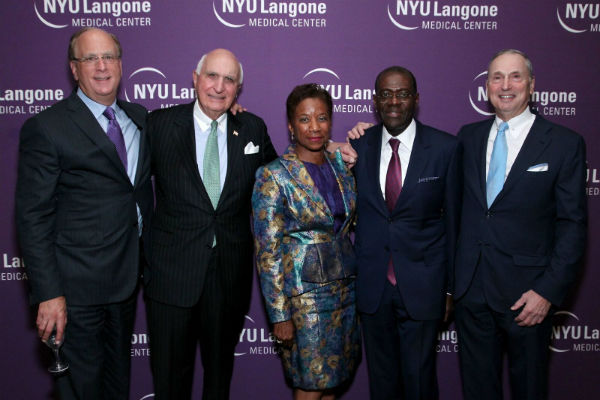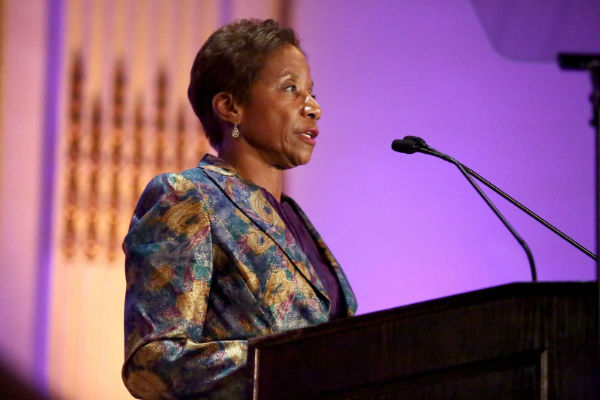 A National Cancer Institute-designated cancer center with numerous sites throughout New York City and Long Island, the Perlmutter Cancer Center is experiencing a period of growth and revival. Under the leadership of Benjamin G. Neel, MD, PhD, director of the Perlmutter Cancer Center, NYU Langone continues to increase the breadth and depth of expertise at the center. Of note, over the last year, seven distinguished physicians and researchers have joined the faculty. The Perlmutter Cancer Center offers a multidisciplinary approach and a nurturing environment for patient care, coupled with tremendous breadth and scope in basic science and translational research. This allows the center to rapidly move important findings from the laboratory to the bedside, including exciting new treatment opportunities through clinical trials.
Lori Fink, chair of both the event and of the Perlmutter Cancer Center Advisory Board, and a trustee of NYU Langone, greeted the audience and said, "At the Perlmutter Cancer Center, our incredible doctors and scientists are led by the amazing Ben Neel, whose leadership is truly changing the game on cancer prevention and treatment. And these efforts are strengthened enormously by the Perlmutter Cancer Center's remarkable partners, individuals like our honorees Bea and Tony Welters, who inspire us daily."
 For more information, go to www.NYULangone.org.
Photo credit; 1) Honorees Beatrice Welters and Anthony Welters pose with President of the AnBryce Foundation Thelma Duggin during NYU Langone 2016 Perlmutter Cancer Center Gala at The Plaza on October 19, 2016 in New York City. (Photo by Astrid Stawiarz/Getty Images for NYU Langone Medical Center). 2) Honorees Beatrice Welters and Anthony Welters pose with Ken Langone during NYU Langone 2016 Perlmutter Cancer Center Gala at The Plaza on October 19, 2016 in New York City. (Photo by Astrid Stawiarz/Getty Images for NYU Langone Medical Center). 3) Robert Grossman speaks on stage during NYU Langone 2016 Perlmutter Cancer Center Gala at The Plaza on October 19, 2016 in New York City. (Photo by Astrid Stawiarz/Getty Images for NYU Langone Medical Center). 4) Actor Kyle MacLachlan speaks during NYU Langone 2016 Perlmutter Cancer Center Gala at The Plaza on October 19, 2016 in New York City. (Photo by Astrid Stawiarz/Getty Images for NYU Langone Medical Center). 5) Honoree Mark Pochapin and Lori Fink attend NYU Langone 2016 Perlmutter Cancer Center Gala at The Plaza on October 19, 2016 in New York City. (Photo by Astrid Stawiarz/Getty Images for NYU Langone Medical Center). 6) General view of atmosphere during NYU Langone 2016 Perlmutter Cancer Center Gala at The Plaza on October 19, 2016 in New York City. (Photo by Astrid Stawiarz/Getty Images for NYU Langone Medical Center). 8) Actor Kyle MacLachlan and Honoree Mark Pochapin attend NYU Langone 2016 Perlmutter Cancer Center Gala at The Plaza on October 19, 2016 in New York City. (Photo by Astrid Stawiarz/Getty Images for NYU Langone Medical Center). 8) Actor Kyle MacLachlan speaks during NYU Langone 2016 Perlmutter Cancer Center Gala at The Plaza on October 19, 2016 in New York City. (Photo by Astrid Stawiarz/Getty Images for NYU Langone Medical Center). 9) Honorees Anthony Welters, Beatrice Welters, actor Kyle MacLachlan and Honoree Mark Pochapin attend NYU Langone 2016 Perlmutter Cancer Center Gala at The Plaza on October 19, 2016 in New York City. (Photo by Astrid Stawiarz/Getty Images for NYU Langone Medical Center). 10) Larry Fink, Ken Langone, Beatrice Welters, Anthony Welters and Robert Grossman attend NYU Langone 2016 Perlmutter Cancer Center Gala at The Plaza on October 19, 2016 in New York City. (Photo by Astrid Stawiarz/Getty Images for NYU Langone Medical Center). 11) Honoree Beatrice Welters speaks on stage during NYU Langone 2016 Perlmutter Cancer Center Gala at The Plaza on October 19, 2016 in New York City. (Photo by Astrid Stawiarz/Getty Images for NYU Langone Medical Center)
Related Articles
---