---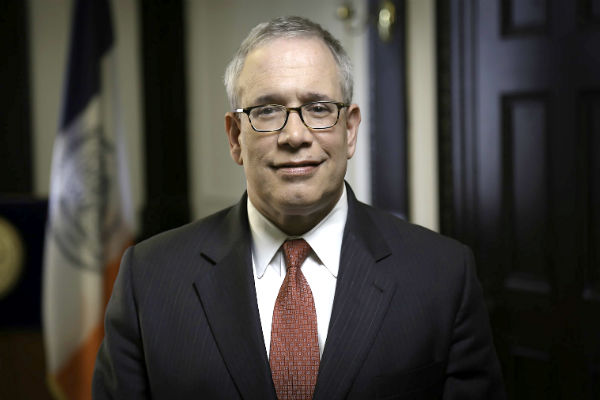 Calls to defund the New York City Police Department made by activists and protesters in the week of protests following the death of Minneapolis man George Floyd are being answered.
They are being answered with a series of possible budget cuts from Harlem to Hollis released by New York City Comptroller Scott Stringer.
The comptroller's plan — outlined in a letter sent to Mayor Bill de Blasio on Thursday — proposes slashing the NYPD budget by $1.1 billion over four years. Stringer specifically recommends implementing a hiring freeze for the upcoming fiscal year, reducing overtime payments to uniformed officers and restricting spending on support programs such as the NYPD's vehicle and technology budgets.
Stringer's cuts would represent a 5 percent reduction of the NYPD's budget for the upcoming fiscal year, which stands in contrast to de Blasio's proposed 0.31 percent cut. Making substantial cuts to the NYPD budget would prevent larger cuts to social services and other city agencies, Stringer wrote in his letter to the mayor.
"Breaking down structural racism in New York City will require long-term, lasting change — and that must include reducing the NYPD's budget. If our budget is a reflection of our values, it is unconscionable that services for Black and Brown New Yorkers are on the chopping block while the NYPD's budget remains almost entirely untouched," Stringer said in a statement.
Stringer provided a more detailed breakdown of his proposed cuts:
A hiring freeze in the 2021 fiscal year will reduce the NYPD's uniformed officer count to about 35,000 assuming a 3 percent attrition rate. A reduction in salary paid to the uniformed police force represents savings of $112 million annually and reductions in fringe benefits represent savings of $111 million annually;
Cutting overtime for uniformed officers by 5 percent represents savings of $26 million annually;
Reductions in "Other than Personnel Services" such as the NYPD's technology and vehicle budgets and other service cuts represent savings of $17 million annually.
Many members of the New York City Council are also advocating for NYPD budget cuts as the city faces a projected $9 billion budget hole due to the economic toll of the coronavirus pandemic.
Staffers working in the de Blasio administration also penned an open letter to their boss on Wednesday to request cutting police funds, first reported by the New York Daily News.
When asked about cutting the NYPD budget during daily press conferences this week, de Blasio has consistently dismissed the idea.
---