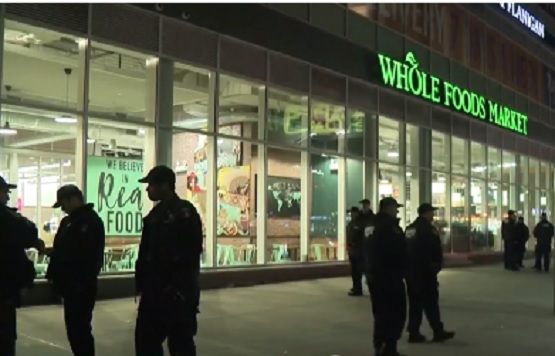 CBS reports that an NYPD officer shot a knife-wielding shoplifting suspect Saturday inside a Whole Foods in Harlem, police said.
It happened shortly before 8:30 p.m. inside Whole Foods in Harlem at Lenox Avenue and West 125th Street.
Police said the suspect became increasingly agitated, brandished a knife and charged at an officer. After several commands to drop the weapon, the officer fired two shots, striking the suspect in the shoulder.
He was taken to Harlem Hospital in stable condition.
The officer was not hurt but was taken to Mount Sinai St. Luke's for observation.
Another person inside the store was also taken to Harlem Hospital after suffering a medical episode.
Police said the suspect was on parole and has an "extensive history."
NYPD Assistant Chief O'Reilly said there were "no shoppers in danger."
She also said none of the responding officers were carrying Tasers.
Photo credit: Screen capture CBS.
Related Articles
---