---
Halloween can be one of the most fun nights of the year, but trick-or-treaters should keep their wits about them. On a night when everyone is dressed as a monster, criminals can blend right in.
The NYPD has released a list of safety tips to ensure that the only thing trick-or-treaters suffer from this year is a stomach ache caused by stuffing their faces with candy.
Chief among the safety tips is that children going trick-or-treating should always be accompanied by an adult, even if traveling with a group of friends.
Here are the NYPD's tips on staying safe this Halloween:
Be aware of your surroundings at all times;
Avoid poorly lit areas and homes of strangers;
Travel in groups. Remember there is safety in numbers, and have at least one adult;
Avoid displaying valuables and electronic devices. Thieves will use the holiday to hide behind a mask to commit crimes;
Do not use cellphones while crossing the street;
Make sure small children are carrying emergency identification information in case of accidental separation. Take a photo of children in their costumes before they go trick-or-treating.
Only eat Halloween candy that is distributed in its appropriate, unopened packaging.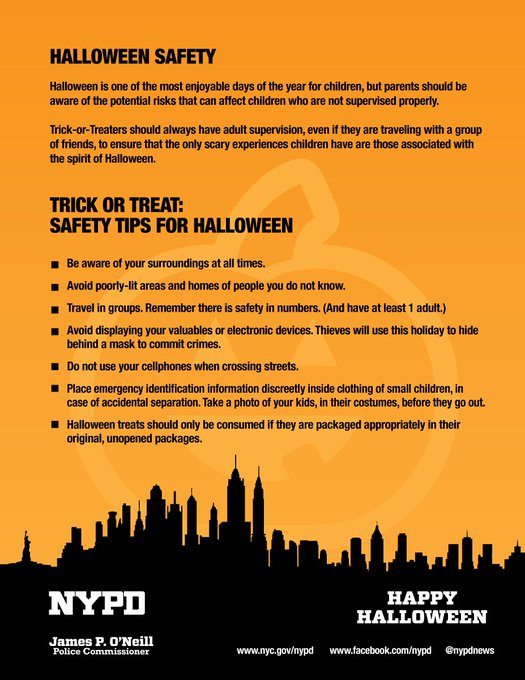 Dark, crowded streets — and a propensity for drivers to consume alcohol — also make Halloween a dangerous for pedestrians. The National Highway Traffic Safety Administration (NHTSA) reports that Halloween is one of the three most dangerous nights for pedestrian fatalities and injuries.
Have fun!
Via source
---